HCP Welcomes Mr. Meerschaert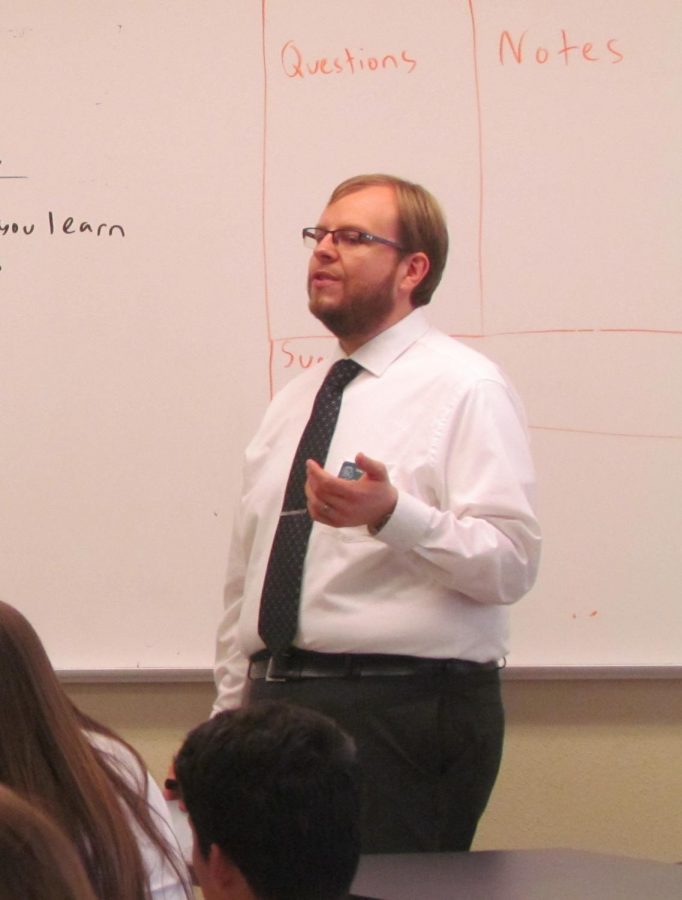 Dylan DelCol/Alice Bennet (Photographer), Reporter
August 29, 2018
Say hello to Greg Meerschaert, the newest member of our science faculty and 9th grade physics teacher.
Coming all the way from Michigan, Meerschaert was drawn to Oklahoma for his wife's work at the Osteology museum, where Harding was, according to him, "at the top of his list" for teaching positions.
"I wanted to be a teacher from a pretty young age," Meerschaert said. "I had to a job and it just worked out the best way it could."
Meerschaert is no stranger to high school classrooms, having taught physics and chemistry for eight years in Florida before coming to Harding.
Meerschaert plans to use a more intuitive hands-on style of teaching in his physics class.
"I try to minimize the math to where I can still get the same point across with a lab or little project," he said. "Letting them discover it on their own is going to be more powerful than me just telling them."
Besides teaching physics, his goals this year are to prepare the incoming freshmen in the skills like Cornell notes and algebra that will facilitate success in future science classes.
Outside the classroom, Meerschaert cuts cabochon gemstones and makes them into jewelry with his wife. "It's a fun hobby," Meerschaert said. He plans to turn his interest into an Etsy business, earning some money on the side. "I'm typically terrible with my hands," he said, "but I was able to pull it off really well.
To feed his gemstone hobby, Meerschaert is an avid collector of rocks and minerals, which he was teaching students about during the first few days of class. "They were asking me to bring some in but unfortunately right now all of our collection is packed away."