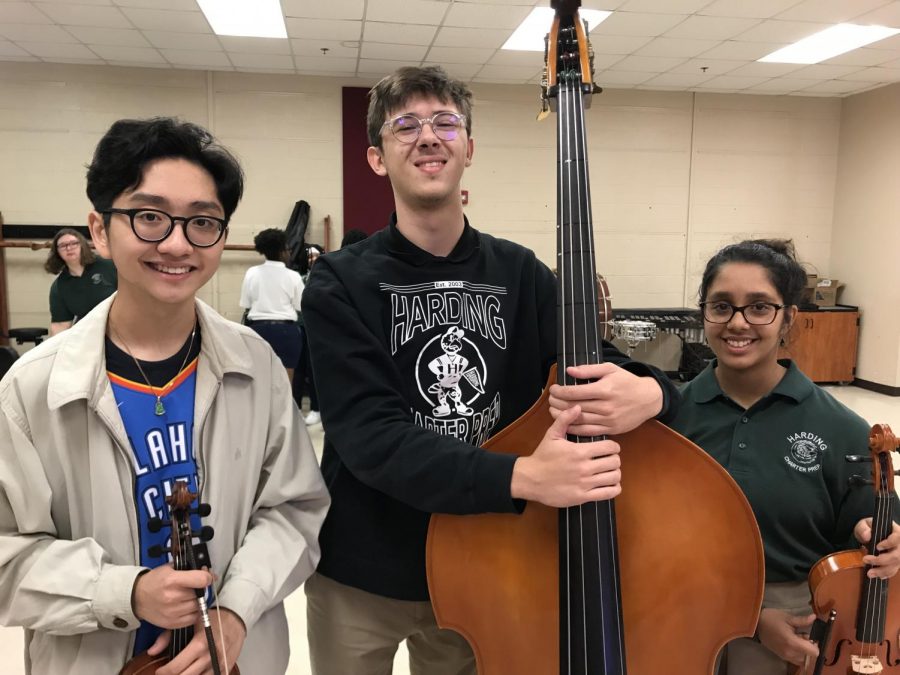 Kelli Taylor
Over 1,000 students descended upon Edmond Santa Fe on Sat., Oct. 5 with the same goal: earn a spot in the North Central Honor Orchestra. Three HCP students met that goal.
Seniors Jackson Burnette and Victor Nguyen and freshman Poojita Sitaraman all earned spots in their respective orchestras. Burnette earned first chair bass in the high school orchestra, reclaiming his previous placement from the 2018 NCHO orchestra. Nguyen earned sixth chair in the first violin section in the 10-12th grade orchestra, and Sitaraman made 14th chair Violin II in the 8-9th grade orchestra.
"It was honestly really stressful for me," Sitaraman said. "I didn't think I was going to make it because I knew I messed up a lot, but I made it, and got 14th chair."
The high school orchestra will play under the baton of Jeffrey Grogan, Orchestra Director at Oklahoma City University, while the junior high orchestra will be conducted by composer Jeremy Woolstenhulme of Nevada. This event requires students to audition to earn a place in an orchestra. Burnette and Nguyen, both seniors, have earned spots in the honor orchestra for five years in a row.
"Being in an honor orchestra is a big deal," Nguyen said. "It shows how much work we've prepared for."
"Personally I feel honored, it was hard work but I'm glad I am able to attend," Sitaraman said. "Being with two seniors is kind of intimidating but it's okay, I know I'll do my best."
The students will meet at OCU on Nov. 22-23 for a clinic and concert which will be free to the public.