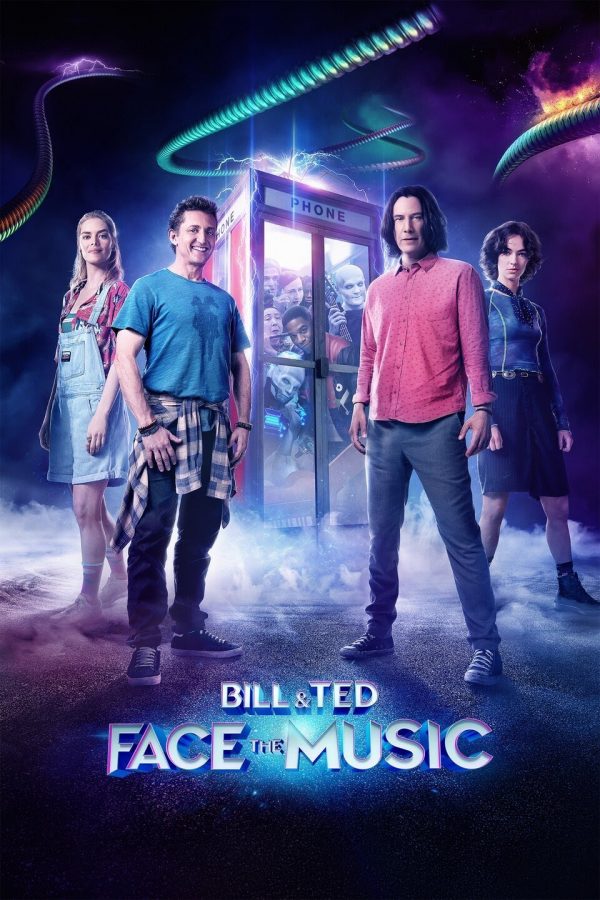 Bill: Be excellent to each other. Ted: And party on, dudes. "Bill & Ted Face the Music" with some advice, watch  "Bill & Ted's Excellent Adventure" (1989) and "Bill & Ted's Bogus Journey" (1991) first! All three movies start Keanu Reeves as Ted "Theodore" Logan and Alex Winter as Bill S. Preston ESQ.   
In this sequel, Bill and Ted still live in San Dimas, Cali. and they are still trying to become rock stars with their band Wyld Stallyns, trying to create the one hit song that will unite the world and complete their destiny. 
"Face the Music" begins with the band Wyld Stallyn's playing a terrible song at Ted's brother's wedding. Bill and Ted are now married to Joanna and Elizabeth, the princesses they met on their first adventure, and both couples have daughters: Theadora "Thea" Preston (Samara Weaving) and Wilhelmina "Billie" Logan (Bridgette Lundy-Paine). After 20 unsuccessful years and numerous failed albums, most of their family has lost faith in Bill and Ted becoming rock stars, except their daughters.  
Bill and Ted take us from the wedding reception to an awkward couple's therapy session with both couples, which does not go well due to Bill and Ted's inability to think independently. Soon after Bill and Ted are visited by Rufus's daughter Kelly (Kristen Schaal) who tells them that the world will be destroyed if they do not play the correct hit song at just the right moment. Bill and Ted have no clue what the song is, so they jump in their magic red telephone booth, traveling into the future to steal the song from their future selves. As Bill and Ted jump from timeline to timeline to escape certain peril, it becomes clear that they are not going to complete their mission alone.  
Overall, I enjoyed the movie, but that is probably because I have seen the previous two movies and this sequel included most of the original cast. It was a laugh–out–loud movie for me. One thing I didn't care for was how the movie switched back and forth between the Bill/Ted storyline to the Thea/Billie storyline. 
I rate this movie 4/5 time-traveling phone booths.
You can stream "Bill & Ted Face the Music" at Google Movies, YouTube, and Amazon. 
 My final thought: If you want to fully enjoy and understand "Face the Music," I highly recommend watching both "Bill and Ted's Excellent Adventure" and "Bogus Journey" before watching this sequel. It will make the movie funnier if you know the background, like why do Bill and Ted have clones? And who is Rufus, anyway?