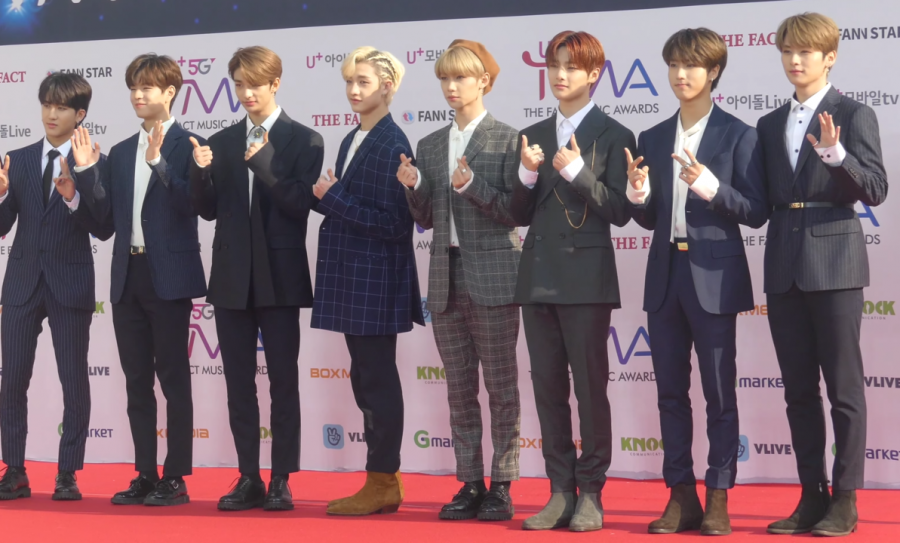 By NewsInStar, CC BY 3.0, https://commons.wikimedia.org/w/index.php?curid=88768112
SOUTH KOREA HELD ACCOUNTABLE
Racism and Cultural Appropriation in K-pop are easily one of the most controversial current topics on the internet. Many people have talked about it from the start and many continue to talk about it.  
What may obstruct someone, like a K-pop idol, from knowing what the concept of cultural appropriation is when a person is living in a racially parallel society where everyone around you looks like you (in terms of race, not appearance), speaks the same language as you and shares the same culture. 
Many Koreans can be very racist to Black and brown people or are very fascinated with them in a way that is not okay. Koreans are so obsessed with white people (and their skin tone), that seeing a Black or brown person is new and strange to them, when it should not be.  
"When I first decided to come to Korea, I admit I was absolutely terrified about how I was going to be received because of my skin color. It's not a secret that Korea, like many other countries in the world, celebrates paler skin and more Caucasian features," said Anyssa Bohanan  
It is such a problem that there are posts on how to be safe in South Korea if you are a Black or brown person. There are countless stories of people talking about their experiences, like harassment for pictures, asking to touch their hair, racial slurs and general rudeness.
Bri (last name unknown), a Mexican K-Pop fan, shares her experience in South Korea.
"So personally, I had an overall good experience! I did notice mostly older people would look at us but never were rude to us. I think if anything people were interested in where we were from. I would get a lot of stares when I would speak Spanish because it is my native tongue and what I'm most comfortable with. But one surprising experience I had was when I was on the bus my best friend and I were speaking Spanish and then I heard someone else speaking it behind me and I realized it was two other Asian girls, I'm not sure if they were Korean natives or tourists, but it was great hearing someone else speak Spanish too, it made me feel a little less out of place!" said Bri.  
WHAT IS CULTURAL APPROPRIATION?  
Appropriation is taking one aspect of a culture that is not your own and using it for your own personal interest. Appropriation could mean of purchasing a piece of jewelry or clothing that may have important cultural significance to that culture, but simply using it as a fashion statement. Taking part of another culture without understanding what it truly means can be harmful not only to those whose culture you are using but also to those with whom you share it. (Greenheart Club) 
SO, HOW DOES THIS RELATE TO K-POP? 
We regularly often see occasions of cultural appropriation and/or racism with K-pop stars. Sadly, these situations usually get ignored and end up being pushed aside despite the disapproval and disappointment expressed by many international fans.  
It is an uncomfortable and disappointing feeling to support an artist and discover that they find elements of Black culture to be a joke, or something that does not deserve respect. It is even more disappointing when fans of said idols raise awareness about these issues and bring it to the attention of these idols (and their companies) on social media, but it just gets ignored.  
"I feel like the idols and the companies need to be held accountable. Companies need to understand that their idols are an image of them as well and that simple things like deleting a post or apologizing will not be enough anymore. These idols are adults and older teenagers, taking the time to learn about EVERYONE'S culture is the least they can do," said HCP sophomore Mulan Bridges.
It is a odd thing to see since so many K-pop idols want to globalize and extend into Western markets, but idols often do not have the cultural sensitivity training or the initiative to learn more about the various cultures of their international community how to respect them. 
"I believe that [idols and companies] should do a better job on educating themselves about the topic. Also, companies play a major role in this situation since idols are usually forced into the scene, but at the same time the idols and other employees should be held accountable for letting it happen. I would really want for their companies to educate themselves, their idols, and fans about situations like this," said HCP student Jamie Abellera.
Abellera also shares her thoughts on how she tries to distance herself from certain groups and how these situations make her feel.  
"I personally feel disappointed when I hear news about [idols] doing things like [cultural appropriation] and will try to distance myself from that certain group/band," Abellera said. "I've seen and researched idols who've done blackface and it has really disappointed and disgusted me for them to just act without thinking on how this could affect the black community." 
SOME EXAMPLES OF RACISM IN K-POP:
(Some of these incidents have been apologized for but some have not.) 
Idols doing black face  
K-Pop girl group Mamamoo made a video clip of the quartet in what many interpreted to be blackface aired at their Seoul concert.  
G-Dragon, posted a horrific photo on Instagram in 2012 in plain tribute to Trayvon Martin, an unarmed black teen who was gunned down by a neighborhood watchdog that year. But he is wearing blackface paint in the photo. G-Dragon's representative told Spin that the photo was a "huge misunderstanding." But G-Dragon has worn blackface before posing as Andre 3000 in a "tribute" video a few years before. 
Idols "talking black" and fetishizing black culture   
Namjoon, from BTS, said his special talent was "Black English"  
Wendy, from Red Velvet, claimed her special talent was "talking black" and also called Black people "gangsters" 
Idols wearing box braids and calling it "trendy"  
HyunA crossed a line with "just a hairstyle." HyunA's braids could be seen as relatively insignificant. But with so many other idols showing their ignorance. 
Lisa's box-braids of 'BLACK PINK' in the Kill This Love music video.  
Kai, of EXO, posted a picture of himself in dreads.  
Jaehee, of Weeekly, said she wants to try out "reggae hair," 
Hongjoong, from ATEEZ, appropriated cornrows, in the THANXX music video.
Idols wearing traditional clothing of other cultures, using it as an aesthetic:  
Pritz stirred up huge controversy for their outfits that closely resembled Nazi uniforms. Their company apologized, but refused to change the outfits. 
MOMOLAND's music video for "BAAM," the girls showed diverse cultures through their outfits, but some of them — namely the Egyptian and Mexican depictions — were seen as racist and stereotypical. 
Jihyo, from the group TWICE, was criticized for dressing like a stereotypical Native American for Halloween, even introducing herself as "Indian Jihyo." 
Oh My Girl (whole group), appropriated South Asian culture, wearing bindis, maang tikkas and matha pattis.  
WHAT IS CULTURAL APPRECIATION? 
Cultural appreciation is when you earnestly seek to learn about or explore a different culture. You learn. You listen. You strive to understand. You seek to honor its beliefs and traditions. (What Is Cultural Appreciation, and How is it Different From Cultural Appropriation?) 
Cultural Appropriation Vs. Appreciation 
WHAT ARE SOME EXAMPLES OF IT IN K-POP? 
IDOL by BTS 
The IDOL music includes choreography that was heavily inspired by African culture, but more specifically, West, and South African. They incorporated the dance move 'Gwara Gwara' which is a popular dance move from South Africa and they respectfully credited where that dance move came from. People tried to dismiss the origin, but BTS always bring it back to its South African roots. 
Chicken Noodle Soup by J-Hope and Becky G 
J-Hope, a member of BTS, and Becky G made a cover of 'Chicken Noodle Soup' By Webstar, Young B, and AG aka The Voice of Harlem. J-Hope shared that the song stayed on his mind. He expressed that it is particularly meaningful for him. J-Hope also explained that when he had first sent the song to Becky G, she had expressed that she wanted to do it and said she had also listened to the original song when she was younger, which made him think they would be a great fit. In the music video there is a ton of Chicano culture and there are many dancers of different ethnicities.  
Butterfly by LOONA 
Butterfly is an inspiring music video that was shot in France, Hong Kong, China, the United States, Iceland, and Korea. It intersperses captivating dance sequences of the members of LOONA with empowering moments featuring diverse women of a variety of races and creeds from throughout the globe. The inclusivity is everything in the music video.  
WHY IS THIS A PROBLEM?  
Idols have disrespected, deliberately or not, different brown and black people repeatedly and it is honestly so irritating that people have still not learned their lesson.  
K-pop idols get the privilege of not knowing better, but that should not be the excuse anymore! The Internet is open to everyone and anyone has access to millions of informational resources to their advantage.  
Educating yourself on cultural appropriation and racism is something that you need to decide to do for yourself. Because here is the thing: people of color are not bound to teach ignorant people anything about race. They certainly can if they want to, but it is not their job. 
Junior Reyna Sun, a K-pop fan, said it's time for companies to put in the necessary work to understand other cultures.
"K-pop has become a cultural representative for South Korea and this does not present them in a positive light," Sun said. "I wish companies would start putting more effort into researching whether or not their usage is acceptable and respectful. I understand that South Korea isn't as diverse as other countries, but the internet is obviously something they're very familiar with."
If idols and companies can look up new dances that Black people have produced, or choreography to copy from Desi cultures, or Black protective styles to copy under the guise of it being "trendy and cool," then it should not be hard for them to be able to figure out whether that is okay to copy in the first place.  
"I really wish companies would do a better job of listening to the fans when we send those emails asking them to address a situation. And it's not just on the companies, these idols need to apologize and actually educate themselves before agreeing to do certain concepts," said student Jane Doe (name changed to protect identity).
WHAT SHOULD IDOLS AND COMPANIES DO IN THE FUTURE?  
The main things that these idols and companies can do is obviously listen to international fans. When there is an incident of cultural appropriation, many fans are quick to tell these idols and companies what they did wrong.  
Companies can have more cultural sensitivity training, but that should not be needed, as the internet is accessible to everyone. AND these people are adults, they are capable to see incidents from the past and understand what those past idols did wrong.  
Idols also interact with fans on Instagram, Vlive, Bubble and Weverse. These social media platforms allow idols to talk to fans and listen to what they have to say. There should not be any excuses anymore.