Musician, athlete wins Artistic Excellence Scholarship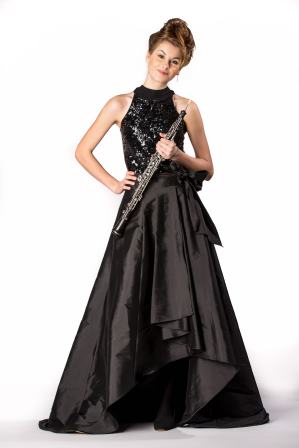 Harding Charter Preparatory High School graduate Allegra Knight of Oklahoma City has been name the 2015 Dr. John E. Clinton Scholarship for Artistic Excellence recipient by the Oklahoma Youth Orchestras. The scholarship is named for Dr. John Clinton who served over 21 years as conductor of the Oklahoma Youth Orchestras prior to his retirement. During his career, Dr. Clinton served as Dean for the Oklahoma Center for Arts Education at the University of Central Oklahoma and Director of Fine Arts for Norman Public Schools and now serves as a clinician and author.
"People sometimes find it odd that I am both an All-State musician and an All-State long-distance runner. They think that the art of music and the art of sport are very different. But they are not, really." said recipient Allegra Knight. She will be a freshman at the University of Oklahoma and study music performance this fall. Knight is a three-time first chair All-State oboist and was a Concerto Competition Winner for the Oklahoma Youth Orchestras during the 2014-2015 season. She received the State Superintendent's Award for Arts Excellence and the MacDowell Club of Allied Arts Scholarship in 2015. In addition to her many other musical accomplishments, Knight has also earned recognition as a long-distance runner, medaling at the state cross-country championships and in the 3200 and 1600 meters at the Oklahoma 4A Track and Field Championships.
"My career goal is to use my skills in both areas to help people find a greater sense of health, wellness and artistry. I hope to help strengthen connections between mind, body and spirit through music and movement," said Knight. "I would love to not only teach oboists how to perform to their full potential, but also to help advise other musicians on issues like injury prevention, conditioning, endurance and performance anxiety."
The scholarship program, established through funding provided by Elevate Captives, awards one $2,000 scholarship each year. Applicants are asked to provide an essay regarding the impact they wish to have on the community by continuing their studies in music and discuss how Oklahoma Youth Orchestras has helped further their career aspirations.
"Allegra not only embodies so much of our mission but also has a true excitement for using music as an innovative teaching tool," said Jason Grife, Executive Director of Oklahoma Youth Orchestras. "We are excited to follow Allegra's journey after the Oklahoma Youth Orchestras as she makes her mark on our community along with the other over 2,000 alumni of our organization."
Oklahoma Youth Orchestras still has space available for the 2015-2016 season which begins next month. Interested middle school and high school students can contact the organization at [email protected] or 405-232-1199 to schedule their audition today. For more information about the Oklahoma Youth Orchestras, visit www.oyomusic.org.
About the Oklahoma Youth Orchestras: Since 1977, the Oklahoma Youth Orchestras have provided advanced orchestra education and performance opportunities for elementary, middle and high school musicians from all over the state. More than 300 young musicians come together each year as part of the 12 ensembles supported by the organization. As a 501(c)(3) nonprofit, the organization is supported in part by the Oklahoma Arts Council, the National Endowment for the Arts, the Kirkpatrick Foundation and the League of American Orchestras. The organization is a member agency of Allied Arts. For more information, visit www.oyomusic.org or contact [email protected]