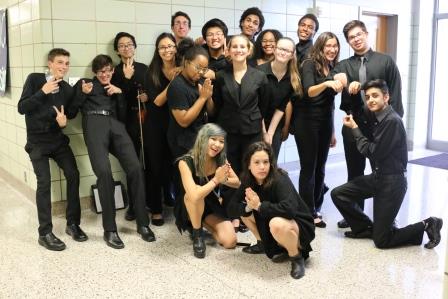 Kelli Taylor
Orchestra has been busy for the past couple of weeks with All City and the North Central Honors Orchestra auditions.
All City took place on September 23. The following students participated:
Julia Bennett, Jackson Burnette, Chong Doolin, Ariana Fife, Brenda Galicia, Alessio Hall, Tien Huynh, Gabrielle Jones, Dania Kennedy, Chase Leach, Katie Maher, Jordan McFadden, Khiem Ngo, Victor Nguyen, Cooper Phillips, Kyra Roosa, Zohaib Thayani and Gregory Thompson.
Alessio Hall sat first chair and was the cello section leader.
"It was really cool, it was my first time doing something that important, and people looked up to me," Hall said.
The students had an opportunity to be led by conductor Peter Markes, a former Oklahoma Teacher of the Year and orchestra director at Edmond North High School.
"I liked that rather than focusing on an individual students, he focused on the group as a whole and it was more teamwork based," Hall said.
In addition to All City, some orchestra students auditioned for NCHO on Oct. 1.
Freshmen Victor Nguyen earned second chair Violin II and Jackson Burnette snagged first chair bass in the prestigious orchestra program.
Nguyen has qualified for the past two years and felt prepared for what was awaiting him at auditions.
"The audition went better than I thought it would. I didn't expect to get a high of a chair I did," Nguyen said.
The NCHO clinic will be held Nov. 18-19 at Oklahoma City University.
"It is really honoring to be one of the students that get in," Nguyen said.
Burnette, having participated for two years before, felt as though he didn't do very well in his auditions.
"For some reason, I thought my tone was scratchy. You know what they say, you're always your hardest critic," he said.
Even though Burnette was not confident in his performance, he earned first chair.
"Getting first chair felt pretty good, but not as exciting as I thought it would be. I thought I'd feel completely ecstatic with getting first, but when it happened, I was more calm and surprised," he said.
Both students said they will prepare for the clinic by practicing the selected pieces and asking for help when they need it.