Café Antigua making authentic Guatemalan breakfast accessible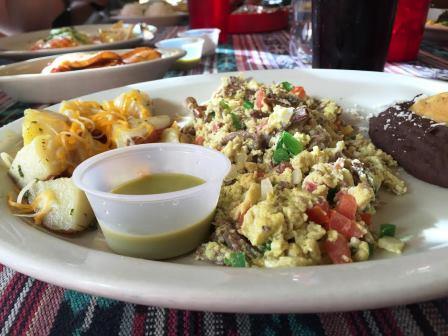 By now you may be tired reading our breakfast reviews but I can assure you that this one was unlike any breakfast experience I've ever had. The Marionette staff stopped by local Guatemalan restaurant, Café Antigua located at 1903 N Classen Blvd.
The best thing about this restaurant is easily the fact that it manages to serve authentic Guatemalan food while also making it accessible enough that it is still an option for those that may be more on the picky side.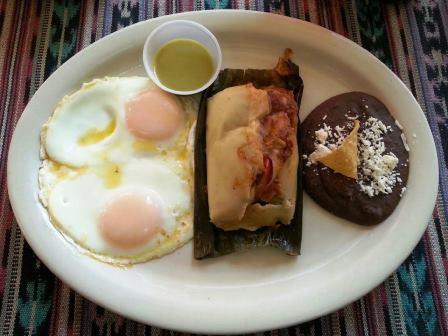 Almost every dish on the menu, very fittingly, brings together eggs, tortillas, and beans in some way. Several of the dishes (Chapin, Cobanero, Antigueño, Huevos Rancheros, and Campesino) are as simple as scrambled eggs served with sides such as refried black beans or plantains (both of which I will touch more on later) and/or topped with a traditional sauce. Others dishes feature eggs scrambled with various ingredients such as jalapeños, black olives, or red bell peppers.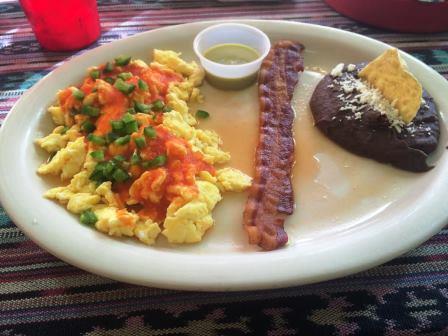 Kelli Taylor had the Machaca which is eggs scrambled with shredded beef, onions, tomatoes, and jalapeños. Taylor doesn't generally like eggs unless they are poached (for great poached eggs check out Kitchen 324) so while she enjoyed the beef, onions, and peppers, it was an odd combination.  She said the dish was also slightly watery due to the ingredients scrambled with it and that it needed a little salt.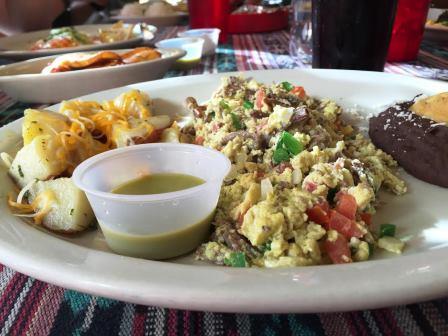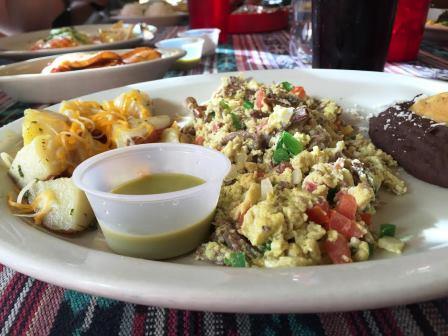 Stephanie Emerson had the Campesino which is three soft scrambled eggs served with two strips of bacon, sliced tomato, black refried beans, and flour tortillas ($6.75). She was pleased with both the serving size and the food itself. The one part of this dish to be aware of is the salsa verde which is quite spicy and served on the side with all of the dishes on the menu. Also served with all the dishes are homemade, perfectly fluffy flour tortillas. They go great with just about anything and were one of my favorite things besides the amazing plantains.
Let me start by saying that plantains are probably my favorite part of South American/Latin cooking. Because of this I've eaten them at multiple places and I can honestly say that Café Antigua definitely ranks in the top three. While some of the plantains were cooked more than others, they still had what is my favorite part of plantains: subtle sweet flavor. If you are like me and seek out places based on their plantains you might try Café Kacao instead but Café Antigua definitely has its unique features that will draw you in.
This brings me to the black refried beans. They were served with almost every dish that came to the table and were absolutely delicious. While the idea of refried black beans may be strange the general consensus was that they were one of the best things we ate.
"I would go back just to eat them again. I have no idea what they did to them, because I have never been able to make beans taste that good. It was probably lard. Or magic. Maybe both," Taylor said.
One of the more authentic dishes on the menu is the Huevos Motuleño which is two corn tortillas stuffed with black refried beans, in between layers of eggs with chirmol sauce, avocado, queso fresco, and queso seco I liked the dish. I loved that they had two types of cheese and thought that the avocado paired perfectly with the chirmol sauce and the beans. I would have liked the dish more without the eggs however.
So regardless of its faults Café Antigua certainly has redeemable qualities. If you are in the neighborhood and are looking for something different you should definitely give it a try. And maybe you're in less of a breakfast mood, Taylor highly recommends their flautas served at lunch time. Café Antigua is open Monday through Saturday from 8:00am to 5:00pm.