Pizza, pizza, pizza more like crust, crust, crust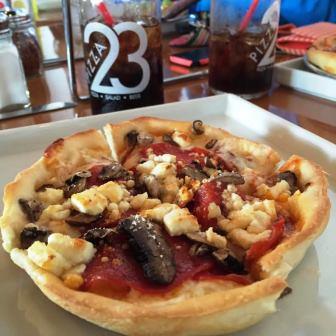 Pizza, pizza, pizza. It's an Italian classic and nowadays it's an American comfort food beloved by just about everyone. Pizza 23 on 23rd Street is attempting to capitalize on this surge in popularity. Read the menu and follow along with me.
The most disappointing thing about Pizza 23 is its limited menu. In some ways it's nice because it keeps thing simple and makes decisions relatively easy. However I'm stuck wanting more, not necessarily because their quantity of options is lacking but more because I feel as though the menu is missing something.
The appetizer selections include "chips n salsa" (corn chips with house made salsa and guacamole – $5), "hot wingz" ($6) and BBQ rib tips ($6), hummus (served with fresh baked pizza dough – $7), the "ultimate trio" (house-made guacamole, hummus, and pimento cheese with fresh baked pizza dough -$10) and "rumble bread" ($5). We chose to try the rumble bread.
Rumble bread is house made pizza dough baked with house oil and garlic sauce and grated parmesan. The app lacks the big bold flavors to truly "rumble" and I find it hard to believe that Rumble the Bison of the Oklahoma City Thunder would pick this appetizer over some "hot wingz." With that being said I did greatly enjoy rumble bread. It may have lacked in your face flavor but I almost prefer the subtle rustic flavor of the house oil and garlic sauce. Overall it has a very herby flavor with what I think is thyme as the star. The parmesan works well to make it feel well rounded.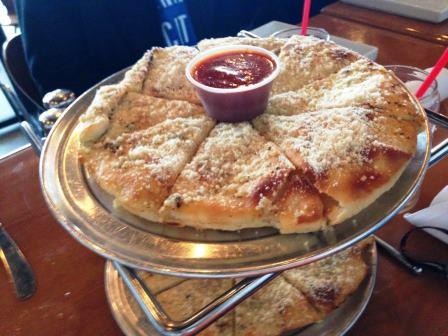 When I was glancing back over the menu in preparation for writing this review I noticed something I didn't see the first time. The chicken wrap appetizer ($8) has bourbon bacon and fire braised chicken. Had I read the fine print and noticed these ingredients when we sat down for lunch I probably would have tried this instead.
The salads on the menu seem to be relatively tame with a house salad ($5 for a small, $10 for a large), chopped salad ($5 for a small, $10 for a large), and Mediterranean salad ($11). The most interesting option on the salad menu is "the long life" ($5 for a small, $10 for a large) which is a kale salad with house dressing, cranberries, blue cheese, and quinoa. But I can't speak to the flavor seeing as I didn't try any of these.
Kelli Taylor did however. Taylor had the lunch special which came with a salad, pizza, and drink. The pizza was a build your own (more on that below) with feta cheese, pepperoni, and mushrooms. The pizza was exactly what Taylor wanted. Plenty of cheese and saltiness, the chopped salad however was less pleasing. Taylor said that in addition to the lettuce being poor and the bacon cold, everything was so chopped up that it felt very little like a salad.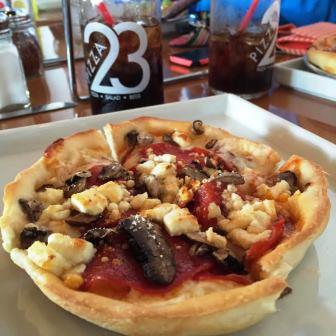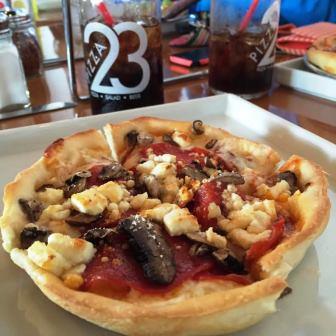 The next option on the menu is the build your own pizza option, which in my opinion every pizza place should have. The only downfall of Pizza 23's build your own option is the lack of variety in ingredients. The ingredients available are pretty standard and thus don't lend themselves to wild experimentations which can sometimes be fun. The prices range from $8-$14 depending on the size.
Next is the gourmet pizzas menu. Prices range from $11-$24 depending on the size and the pizza. This includes a play on meat lovers appropriately named "the carnivore," as well as a Mediterranean pizza, a Hawaiian luau pizza, a vegetarian pizza, a chicken alfredo pizza, and a margherita pizza. These are the more predictable pizzas but none the less they are classics. There is also a pizza called "the worx" for those looking for a meat lovers stepped up a bit with red bell peppers, red onion, black olive, and mushrooms, and a pizza called "the carnitas" which is marinara, mozzarella, pulled pork, red onions, and pico de gallo.
More adventurous pizzas were a "spicy okie" pizza with cheddar cheese, jalapeños, hamburger, bacon and BBQ sauce and a "bleu burger" pizza with marinara, mozzarella, hamburger, bacon, red onions, avocado and blue cheese.
With all that being said, I chose to build my own pizza with marinara sauce, bacon, blue cheese and avocado. This is very similar to "the bleu burger" menu except that I chose to omit the hamburger and red onion. I was pleased with my pizza. I thought the ingredients worked really well together, but my suggestion would be to stick with the "bleu burger." Even though I don't like raw onions on my pizza I think the pizza really needed the additional flavor. The only thing bringing real flavor to the pizza was the blue cheese. The avocado added some flavor but was more effective with adding texture contrast.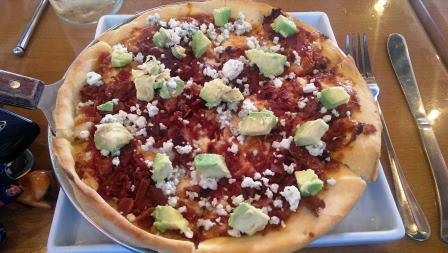 I also had a chance to try the "carnitas" which I didn't like quite as much but still thought it was tasty and a creative idea. The best thing about this particular pizza was that the pulled pork was cooked well. The most disappointing thing was the lack of spice. When I sit down for a pizza like this I'm expecting big flavors and they just weren't there.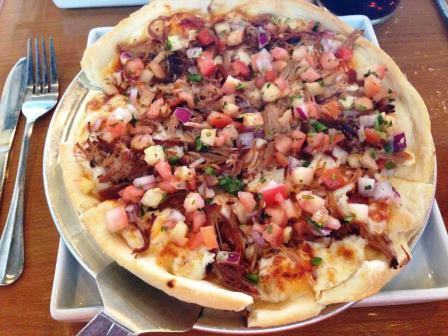 Overall what I found was that Pizza 23 lacked the bold flavors that I was expecting from a lot of their dishes. There is however one thing that puts Pizza 23 above all other pizza places and makes me what to go there again and again despite a possible lack of flavors: the crust.
I don't know how to explain it. It is the perfect balance between flakiness and body to hold the pizza together. I think it might just be one of my favorite crusts of all time.
All-in-all Pizza 23 is something everyone should try. It may not seem like much and it has its faults just like any other restaurant but the crust alone is worth going for. Pizza 23 is Monday-Thursday from 11:00am-9:00pm, Friday-Saturday from 11:00am-11:00pm, and Sunday from 10:00am-9:00pm. Pizza 23 is located at 600 Northwest 23rd Street.