Find your gateway pie at Pie Junkie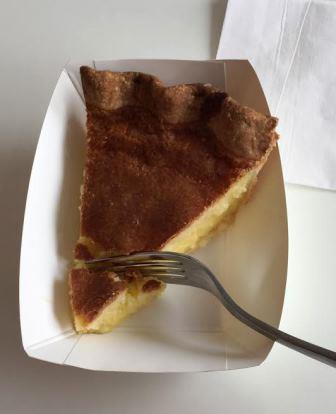 Time and time again pie is picked by Americans as one of their favorite desserts and time and time again apple takes the crown as America's favorite pie. But at Pie Junkie, located at 1711 NW 16th St Oklahoma City you're going to find a lot more than apple. This tiny little pie shop is run by two moms with a love for pie.
The two women have been recognized by Slice magazine as some of the top chefs in Oklahoma City and it's easy to guess why. The shop, which opened in 2013, (after starting as a business since 2010) has jumped to the top of the list of most popular desert joints in OKC.
In addition to pie being available at their store, Pie Junkie also provides homemade pies to restaurants across the city such as S&B's Burger Joint, The Paramount and Iron Star BBQ.
While Pie Junkie's menu rotates frequently to allow time for all different types of pie to shine, there are certain pies that are almost always guaranteed to be present and accounted for (the Marionette is not responsible for any sadness if a pie listed below is not present). This includes an apple crumble, a Bird Dog Buttermilk pie, a macadamia key lime, a French silk, a peanut butter chocolate, a Drunken Turtle pie, and a quiche of some sort. So let's break down some of the regulars and semi-regulars at pie junkie:
First up is the Bird Dog Buttermilk pie. It is a buttermilk pie made with Bird Dog blackberry whiskey. Next is the French Silk which is a chocolate pastry cream pie topped with whipped cream and chocolate ganache.  The Drunken Turtle is a fudge pie with pecans and salted bourbon caramel. The quiche changes daily but can be anything from chorizo, potato, and chile, to bacon, corn, and Swiss cheese.
So obviously with such a wide range of delicious pies we at the Marionette had to make this stop.
Both Kelli Taylor and Isis Frazier had the Bird Dog Buttermilk pie. Frazier said that the pie was good with a nice fluffy texture but that it was verging on almost too rich. "You'll definitely need water!" Fraizer said.
Taylor agreed that the pie was sugary and very, very rich. She the crust was good and that it did its job holding the whole pie together but said that the custard was the star. Taylor enjoyed the custard even more because it was made with buttermilk rather than cream. However Taylor had a much deeper connection with the pie.
"It was kind of nostalgic. My mom made buttermilk and chess pie when I was a kid I haven't had it in a long time," she said.
Hannah Malzahn and Elizabeth Brosius both tried something a little different. Brosius had the peanut butter and chocolate pie and said it was fantastic and "like Reese's." Malzahn had the drunken turtle which although rich was "totally worth it". She also commented on the texture saying it was the perfect combination of crunch and softness.
One other thing that pie Junkie does that is unique is that they sell pot pies that are premade and ready to be put in the oven at home. Frazier and Taylor both tried one. Taylor took home a traditional chicken pot pie it and said that it was absolutely delicious. In fact Taylor was so impressed that she is now on a quest to try their chicken, thyme, and mushroom pot pie which she has yet to get a hold of. There are also turkey pot pies on some days. All of the pot pies come in full size pies and individual serving size pies.
The one comment that is consistent from nearly everyone that has been to Pie Junkie (even beyond our staff) is one second the pie is in front of you and the next it's not. It goes so quickly and leaves you wanting more. Eating Pie Junkie pie is difficult because all you really want to do is shove the whole thing in your face like something out of the Three Stooges.
However the absolute worst thing about Pie Junkie is how quickly it goes and how quickly you get attached. When I tell you the pies don't last long I am not kidding.  The best thing about Pie Junkie beyond their delicious pie, (which sometimes even includes pot pies) is that they allow you to call in (405-605-8767) and reserve a slice before all of your favorite is gone. You can also place an order for whole pies (require 48 hour notice) for events or if you just want to keep a pie to yourself (I certainly do).
Full pies are 9'' and serve seven to eight people and are sold for $18 plus tax. Slices are $4 plus tax. However, Tuesday through Thursday from 6:00-7:00pm is HappyPi hour so slices are $3.14. Pie Junkie is open Tuesday through Thursday as well as Saturdays from 10:00am to 7:00pm, and Friday from 10:00am to 9:00pm. However Pie Junkie's hours do fluctuate because they may close early if they run out of pie and stay open late for special events like Live on the Plaza. Pie Junkie is closed Sunday and Monday.