Meet the cafeteria staff
Everyday you see the same seven teachers. You know their last names, where their rooms are, and you could definitely recognize them if you saw one of them in the next aisle at Target.
You might know even more about them, like their first name, what music they like to listen to, or where they went to college.
Now think about the cafeteria staff. If you eat the school lunch, you see them everyday too. In fact, if you eat breakfast, grab-n-go, and lunch you see them three times a day. What are their names? Would you recognize any of them if you ran across each other in the cereal aisle?
There may not be enough time to start a conversation in the hustle and bustle of the lunch line, so here are a few things about the people who keep the cafeteria up and running.
Virginia is the eldest of four generations of family working at Harding.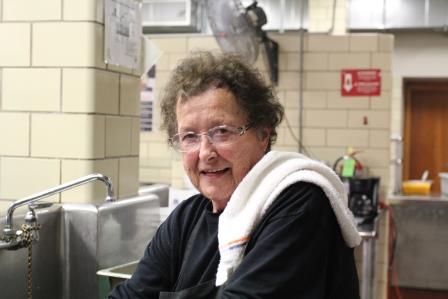 She does everything from serving, to taking people back and forth between Dove Academy.
Virginia moved here from Illinois in 1962 to be with her husband.
She loves to listen to country music, especially Gene Watson.
Though he released most of his hits in the 70's, Watson is still going strong. He's currently on tour and set to visit Virginia's home state of Illinois in early June.
Brenda is next in the family line, and has worked at Harding for seven years.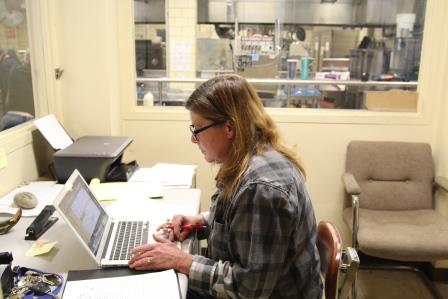 "I do truck orders, all the paperwork, and I have 5 other schools, so I gotta run over there and check on them."
When she's not filling out paperwork or going from school to school Brenda enjoys cooking.
Her favorite thing to cook is pozole, which is a Mexican stew with hominy and pork.
Pozole can be made in three different ways: White, or plain pozole without any sauce on top, green pozole with a sauce made of tomatillos and cilantro, or red pozole made with different types of chilies.
Jennifer is the third generation at here at Harding. She works mainly at the register, although she also sometimes cooks and serves.
Jennifer learned to play the guitar growing up with her family. Her favorite song to play is "The weight" by the Band.
"The Weight" has been covered by a variety of artists, including Aretha Franklin, Jackie DeShannon, The Supremes, and the Temptations.
The song was also named one of the 500 songs that shaped rock and roll by the Rock and Roll Hall of Fame
Jamie works as a server, and has been at Harding for roughly five months. She was born a Texan but raised an Oklahoman.
"I was born on an army base, so I moved with the army. My dad was a green beret."
Green Berets are a special branch of the U.S military that specializes in "unconventional warfare.
Due to the highly-specialized skill set needed to be a Green Beret, many are college-educated and enter the army already bilingual.
Jamie traveled from Texas to Alaska, and then finally to Oklahoma. She enjoys working with kids and has two of her own named Hayden and Kylie.
"I love it here. The kids are awesome, and I get time off and vacation.
If given the choice the only thing Jamie would change about working at Harding is the heat in the kitchens.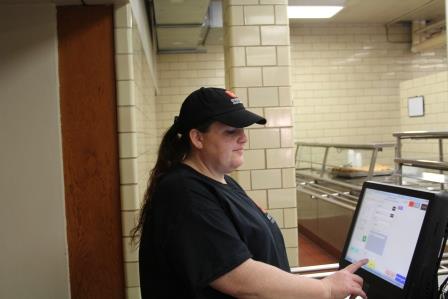 Vincent works in the kitchen preparing both breakfast and lunch.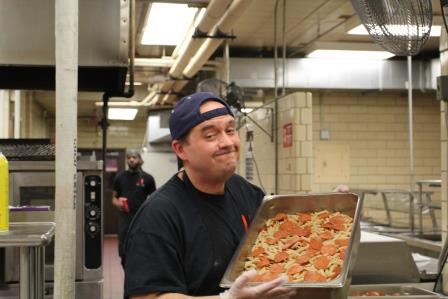 "When I get here I cook breakfast, I start prepping lunch. Then I have to transport food to Dove Science Academy, both breakfast and lunch because my kitchen isn't ready yet."
In his downtime when Vincent isn't cooking breakfast or bussing food from school to school he likes watching sports.
"I love hockey. I like the Detroit Red Wings, I've always loved them. My favorite sports team used to be the Detroit Lions. Barry Sanders was there, but after that horrible career I stopped watching professional football, and switched to hockey."
National Hockey League playoffs are set to begin mid-April, with the Red Wings holding the record for the longest playoff streak: 24 playoffs in a row.
Rashid has been at Harding for four years.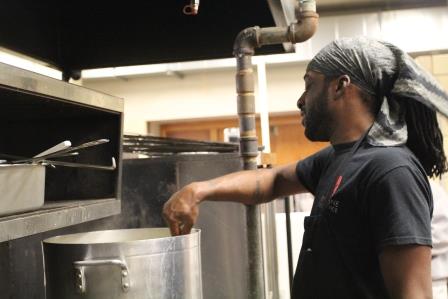 He starts preparing breakfast at 6 o'clock so it's ready by 7. When breakfast is finished, he gets lunch ready for 11:00.
"It's not too bad. I'm always getting up at four in the morning, but other than that it's ok."
As a hobby Rashid makes and produces music.
"I rap and create instrumentals for whoever needs a beat to rap or sing on."
Christie is in charge of preparing the salad bar, and she also helps with serving.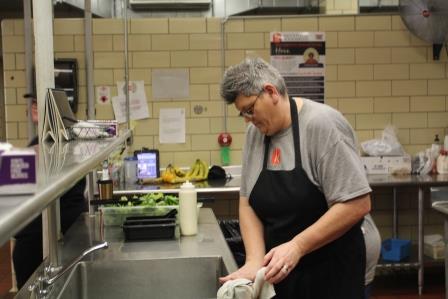 She likes to listen to music, and although she doesn't have a favorite genre, her favorite artist is Garth Brooks.
Brooks has sold over 135 million albums, making him second only to the Beatles in number of albums sold.
Although Christie enjoys Garth Brooks she is also Hard of Hearing. This means that Christie can hear some things, like Garth Brooks, other things are more difficult.
Christie uses a method of sign-language called American Sign Language, or ASL. For beginners to sign language Christie recommends they first learn the ASL alphabet.
"If they finger spell, then I can teach them whatever it is they want to say."
If you only want to learn a few signs, please and thank you is a good place to start.
Although it may look simple and easy, the cafeteria staff work long hours and do many different jobs throughout the day. They do everything from cooking to serving, and some work multiple schools. Even though there isn't enough time to start a conversation there is at least time to say please and thank you. You never know when you might end up in the same aisle at Target.
About the Writer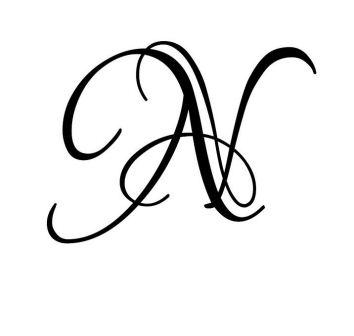 Nikita Lewchuk, Managing Editor
I'm Nikita Lewchuk, one half of the dynamic Delchuk duo. My twin and I are seniors this year, if all goes to plan I'll be off studying International Relations...