Inside the life of Natalie Runnels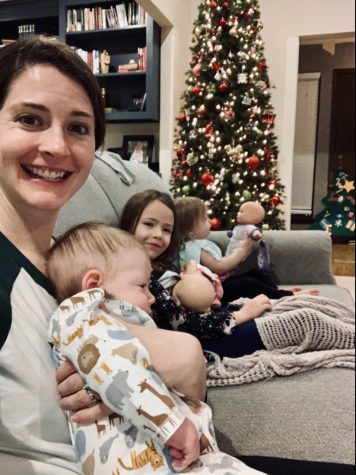 "I like to joke that I don't have past times, I have kids."
Natalie Runnels is a favorite teacher to many, a mom of three and a cowgirl at heart. Some of her favorite memories within her childhood take place on a ranch where she was surrounded by horses and an environment where she could lose herself in her own imagination.
"I spent a lot of time riding horses and doing the whole cowgirl thing," Runnels said. "I think a lot of independence came from that."
Runnels recently returned from maternity leave after having her third child. Due to the unprecedented times of COVID-19 she is somewhat fearful due to her infant being at high risk.
"My baby is still pretty high risk because he's so young, and that's very, very concerning."
Runnels has been with Harding since 2012. Before that she lived in Spain teaching 6th through 8th graders English.
"I think [teaching] is about empowering students at their core to be better thinkers and better readers," Runnels said. "All through their lives they have to have a voice and know that it is valuable."
With this duty to help the next generation hone their communication skills, Runnels tries to incorporate texts from the influential American journalist Dan Rather to Civil Rights leader Martin Luther King Jr. to help students understand the power in their thoughts and how to speak them.
According to Runnels, having children and a full-time job is a balancing act, but she says said dedicates 100 percent of her energy when she is at work with her students and 100 percent of the time she is with her family.
"Ruth Bader Ginsburg once explained that being a working mother made her better at both jobs," Runnels said. "I feel like that's the same for me."
Runnels is strict with the boundaries in between both worlds in order to make it clear to the world her children come first to her.
Of course the balancing act can get tricky and make life tougher than normal.
"It is hard to balance both," she said. "Sometimes being a good mom means being late to work. Sometimes being a good mom means I arrive to work totally exhausted from the night before."
Regardless, Runnels finds it all worthwhile and said overall that it has made her a kinder person.
As an English teacher, Runnels has her favorite pieces of literature. She is especially fond of the epistolary novel "Guernsey Literary" and "Potato Peel Pie Society." Much like Runnels, the novel challenges the status quo and questions why the world is the way it is.
She also makes a note that her favorite "teacherly" book is "Invisible Man" by Ralph Ellison.
"It is so rich on so many levels it's too much to summarize," she said.
Runnels' unique approach leaves a lasting impact on her students.
"It's like teaching runs through her veins. She's definitely one of those teachers that you can't ever forget," said senior Katie Hillemeyer, who took Runnels' class her junior year.
Runnels said she has a deep love and admiration for her students. She cares less about the grades and more about the learning taking place. She values the skill of thinking critically in her classroom and wants students to take risks in her classroom.
"There is a lot of pressure to be perfect. I want [students] to know that I have got them."