About Noel York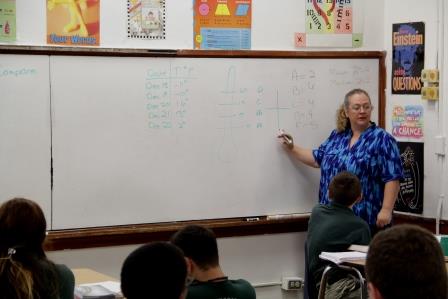 With the start of the 2014-2015 school year, HCP hired six new teachers including new math teacher Noel York. York stepped up and took the position and now teaches College Algebra, Algebra I and a section of Pre-AP Calculus. She may seem like any other math teacher to the un-informed, however York is much more than meets the eye.
York graduated from UCO in 2013 with a double major of applied mathematics and mathematics education. However, York's experience stretches far beyond taking classes in college. York retired as a Master Sergeant after 20 years in the U.S. Air Force. York made the "impulse decision" after feeling stuck and unhappy in college. So in order to get out of her funk, York joined the U.S. military.
Despite being in the military for so many years, York always knew she wanted to be a teacher. York's military experience helped her prepare for a teaching career. York taught bomb squad training and explosive ordinance recon, which deals with identifying bombs, to airmen in the Air Force. She also taught applied suicide intervention skills training (ASIST), which teaches people how to help others who may be struggling with whether or not to take their own life.
With extensive experience in teaching others and a love for math, York figured being a math teacher was the perfect fit. "I like solving puzzles. Math has great puzzles," York said.
Perhaps the most interesting fact of all has to do with her family. York's family is known as the "Christmas Crew" to friends. The name came because she and her husband Nicholas named their daughter Holly and then had their son and decided to keep with the theme naming him Reath.
York said she things HCP is a great place. "The first week [my favorite thing] was the faculty and how helpful they were and then the second week the students and how great they were," York said. "I'm very happy here."