Speech and Debate Regionals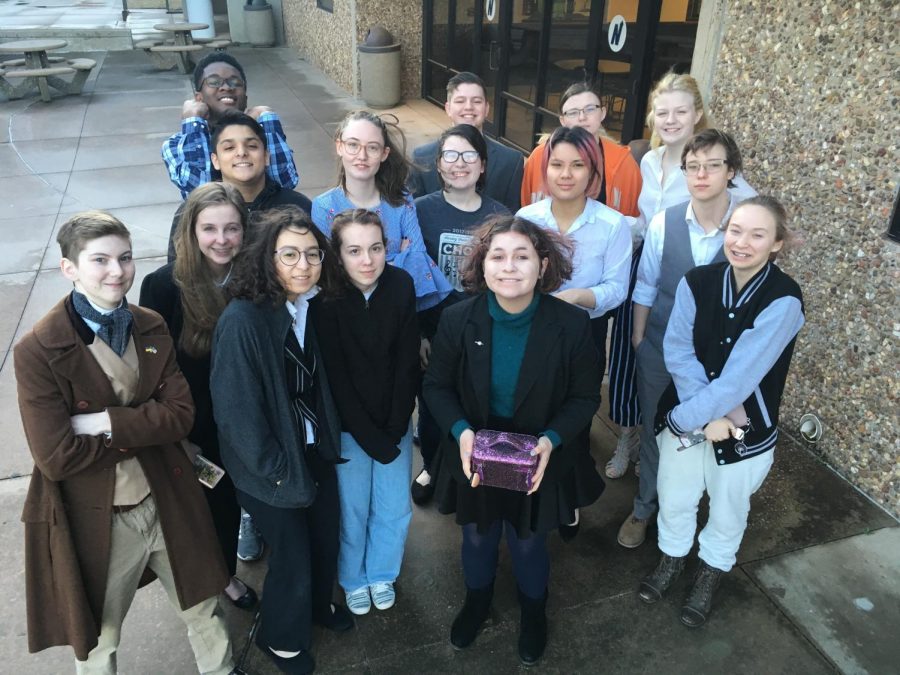 The speech and debate team took 15 members with 30 total entries to the Regional tournament at Edmond North on March 8-9, earning six qualifications for the State tournament.
Senior Nikita Lewchuk placed fourth in original oratory – an event where participants write, memorize and present a speech about a topic about which they are passionate. Lewchuk has been participating in this event since freshman year, even going as far as nationals their sophomore year.
This year Lewchuk wrote their speech about immigration, refugees and the humanitarian crisis along the southern border.
"It sort of bothers me when people talk about illegal immigration because the people coming over seeking asylum are refugees, and its perfectly legal to come to the US and seek asylum," Lewchuk said. "All these 'illegal immigrants' people are talking about are, in fact, refugees."
Lewchuk also earned a state qualification by winning the regional championship in foreign extemporaneous speaking, an event where participants randomly select a question about foreign events, and then have half an hour to prepare a speech on the topic.
"[Extemp] is something that I am passionate about," Lewchuk said. "It's just something that I have a knack for – making stuff up on the fly and talking about it."
Three other competitors qualified from Harding, with Simone Pico placing third in Foreign Extemp and both Brian McGowan and Alice Bennett qualifying in Domestic Extemp, which is like Foreign Extemp but for American current events.
Junior Brian McGowan placed fifth in his event.
"I did [Domestic Extemp] freshman year for one tournament, all of sophomore year, and this year," McGowen said. "The first time I did extemporaneous was because I needed an event; I've pretty much stuck with it ever since."
Qualifying for State came as a bit of a shock to McGowan.
"I was genuinely surprised when I qualified for State. I had never been very good at it, I hadn't even made it to Regionals last year," McGowan said.
Though only four members of the team qualified for state, three other members will serve as alternates for the upcoming tournament. The alternates are Jesslyn Chain (poetry) and Simone Pico and Camryn O'Dell (team policy debate).
The state championship will take place April 4 and 6 at the University of Oklahoma.
About the Contributor
Camryn Anderson, Reporter
My name is Cam Anderson and this is my first year on the news staff. I'm a junior and have always had an interest in news and am trying it out. I was...