Good Gravy! does not entirely live up to its name
Making delicious breakfast food is an art. It requires attention and skill, but more than anything it requires patience. Gravy in particular requires a lot of patience and attention to detail.  Chances are if you're not a patient, attentive person you do not make good gravy.
With that being said, recently we went out for breakfast food to Good Gravy! located at 8014 N. Western Ave. in Oklahoma City. Overall, Good Gravy! was very satisfying. You will not walk away hungry, as they have massive portions, and you will not walk away feeling like you were cheated out of breakfast food that is for sure. But you might walk away feeling slightly less satisfied with the gravy like I did.
This is a restaurant that prides itself on its gravy as they serve 40 different types of gravy. While I thoroughly enjoyed the biscuits I struggled with the gravy. Being that the name of the restaurant was "Good Gravy!" I had certain expectations that were not met.
I ordered two biscuits with bacon gravy and a side of bacon, because you can never have too much bacon. Like I said I really did enjoy the biscuits. They were fluffy and flaky and very substantial, perfect for smothering in gravy. The bacon was also good. It was perfectly cooked, meaning it was just the right balance of crunch and chew.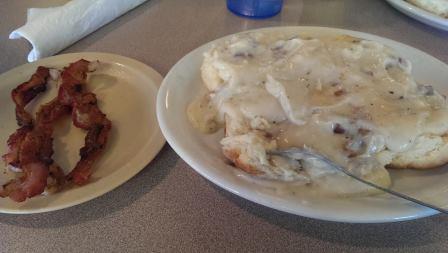 The gravy was the problem. For the most part it seemed the gravy was basically just cream gravy with bits of bacon. If there was bacon grease in it, the flavor didn't really come through. The bacon bits were just not enough to compensate for the lack of flavor. In addition the gravy was incredibly thick and a little gluey it seemed. I'm always very careful about where I order biscuits and gravy for those exact reasons, but I thought for sure I was safe ordering it at a restaurant that specializes in biscuits and gravy. Apparently not.
Jake Burga had the veggie gravy with his biscuits and he felt about the same I did. "[The veggie gravy] was decent. That's all there really is to say. It was basically white gravy with veggies, and that's essentially the same formula they used for all their other versions of gravy as well," Burga said.
It's hard for me to pinpoint what exactly was the problem with Good Gravy!'s gravy. I think really there are a couple problems, the main one being that they don't make bacon gravy or sausage gravy or veggie gravy. They make cream gravy and put the various ingredients in. For certain things this method works fine, but gravy is definitely not one of them.
You remember how I said gravy requires patience and attention? Gravy is something that really needs to be made individually, to order, especially if you're going to make multiple types. Good gravy has to have flavor and not flavor that you have to hunt for in bacon bits. It also needs to be creamy, and by that I mean not runny and not thick like glue. Someone making gravy has to have the patience and attention to be able to combine all these factors into one delicious harmony. It is not easy by any means.
Now in all of this I don't mean to completely crush Good Gravy! and convince you from ever going there, I simply mean to warn you. If you or someone in your family makes good gravy, stay home. Enjoy the homemade labor of love instead.
Some things Good Gravy! offers that were favorably reviewed include the poached eggs (which had to be requested), the hash browns, the bacon, and the pancakes. Kat Leenders and Stephanie Emerson both had a taste of the pancakes and enjoyed them. Monica Threatt and Kelli Taylor both thought the hash browns were nice and crispy and overall well done.
Taylor also ordered poached eggs with her meal and was pleasantly surprised. "It's difficult to find a place that will serve poached eggs properly. Either they're watery or way underdone. These were perfect!" Taylor said.
While Good Gravy! may not live up to its name I think it does serve a purpose. It seems like Good Gravy! would be good for families or those who are looking for a quiet down-home breakfast diner. My final suggestion: stick with the eggs and bacon.