'Cheesin' from Cheek to Cheek', remembering the life and legacy of Mac Miller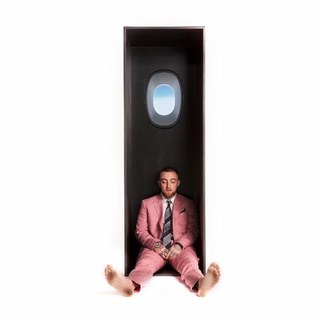 On the track "Brand Name" on his 3rd studio album, GO:OD AM, Mac Miller proclaimed on that "I'm not hoping to join the '27  club'."
However, despite wanting to avoid the infamous club of entertainers who passed before the age 27, Mac Miller passed away Sept 7 at the age of 26.
Miller, born Malcolm James McCormick, will be put to rest in his hometown of Pittsburgh, Penn.
Miller's death evoked an outpouring of condolences from people throughout the entertainment world, with friends and peers spanning a vast array professions speaking out about Miller's untimely passing.
"He was one of the sweetest guys I ever knew. Great man. I loved him for real. I'm completely broken. God bless him," wrote Chance the Rapper shortly after news of Miller's death was made public.
Miller's warm personality is described on the title track "Best Day Ever" from his 2011 mixtape, Best Day Ever, where Miller proclaims "No matter where life takes me, find me with a smile … I never thought life would be this sweet / It got me cheesin' from cheek to cheek … Life couldn't get better / This 'gon be the best day ever."
Miller was a sort of polymath in the music industry, he would write his own lyrics, compose his own music and produce his music under the pseudonym Larry Fisherman. In his career, Miller was able to amass a catalog of six albums and twelve mixtapes, constantly evolving from project to project, with his sound and content maturing as he did.
His latest studio album, Swimming, was released in August and dealt with Miller's struggles with addiction, overcoming depression and finding inner peace.  The album debuted at number 3 on the Billboard Top 200, and featured contributions from the likes of Snoop Dogg, Pharrell Williams, John Mayer and J. Cole just to name a few.
Miller opened the album with an earnest reflection on his life with the song "Come Back to Earth," where he says "I was drowning, but now I'm swimming / Through stressful waters to relief."
Honesty has always been a hallmark of Miller's music, as he never shied away from discussing his personal struggles, such as depression and addiction. Miller candidly reflected on his struggles with  sobriety on the 2015 song "Perfect Circle / God Speed," where Miller admits "Them pills that I'm popping, I need to man up / Admit it's a problem, I need a wake up / Before one morning I don't wake up."
Following his passing, Swimming shot up to number 1 on the iTunes charts and the collective streaming numbers of Miller's entire catalog saw a staggering 970% increase.
Miller's strength is best exemplified on the penultimate track of Swimming "2009", where he exclaims "I struck the f**k out and I came back swinging… now when it gets hard / I don't panic, I don't sound the alarm… all I do is shine, take a breath and ease my mind."
In his 11 year career, Miller touched millions of fans and had been entangled in a battle of addiction, but his legacy will forever be marked by his warmth and perseverance.
Listen to Mac Miller's discography with links below: