'Meet me at midnight'- Midnights review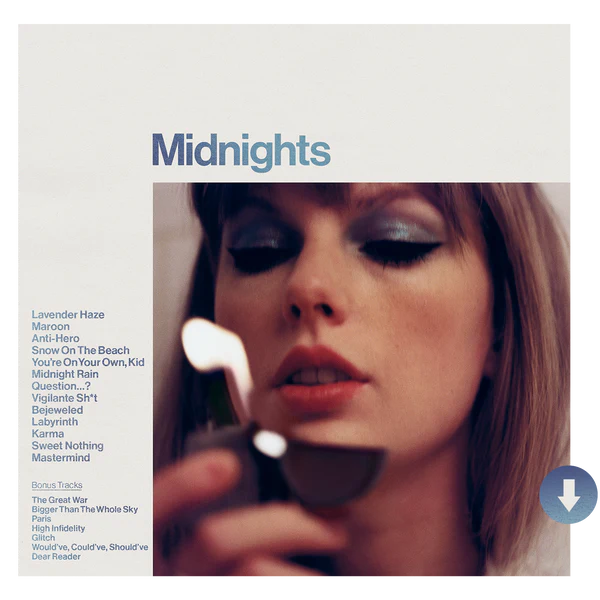 Award-winning singer/songwriter Taylor Swift "makes the whole place shimmer" with the release of her tenth studio album 'Midnights (3am Edition).' 
'Midnights (3am Edition)' wasn't something I was expecting at all. Fans like me were expecting this album to sound much like Swift's eighth album 'Folklore.' Instead, this album sounds like a combination of '1989', 'Reputation' and 'Lover.' 
Since the album's release, I have listened to it an unhealthy number of times, and have fallen in love with it. This is not my favorite album, but I love it so much. 
'Lavender Haze' Is a perfect album opener. To me, this song sounds so much like Swift's song 'I Think He Knows.' This song brings me a sense of nostalgia to 'Lover,' which is nice because the Lover Era got cut short due to the pandemic. 
'Maroon' is one of my favorites on the album. The beginning notes of the song remind me of 'King of My Heart,' which is one of my favorite songs ever! This song is more muted and relaxed than most of Swift's other songs, which are very upbeat. 
I hope Swift releases more songs like this. 
'Snow on the Beach' is one of my least favorites on the album. Many people including myself, thought that since Pheobe Bridgers had a verse on the vault track 'Nothing New' that Lana Del Rey would too.  
I hoped she would at least get a full verse, but Swift stuck to her theme of having female features singing background vocals.  
This song earned bonus points when I learned that actor Dylan Obrien played the drums on it! 
'Bejeweled' had such a good music video that made me love the song. Swift plays as the 'Tacky Wench' stuck at home while her three evil step sisters (played by the Haim sisters) and her evil step mother (played by actor Laura Dern) go out to the ball to "Go be hungover." 
After Swift transforms into her sparkly self, she dances around in martini glasses with Dita von Tesse and gets married to Prince Jack (played by producer Jack Antonoff), son of Queen Pat (played by makeup artist Pat McGrath).  
This music video was very entertaining and made me laugh while watching it!  
'Anti-Hero' is my third favorite song on the album and my favorite single Swift has released. The first time I listened to this song, I knew it would be one of my favorites.  
"I'll stare directly at the sun, but never in the mirror," is one of the most relatable lines in a song I have ever heard.  
This song is about Swift's struggle with her self-esteem and identity. As someone who also struggles with this, this song means a lot to me. 
My second favorite song on the album is 'Would've Could've' Should've.' I think this song was written in the 'Speak Now' era when Swift was 19. This song reminds me of her country music, but more matured. 
I take this song as Swift reflecting on a past relationship, and how it has affected her now. 
"And now that I'm grown, I'm scared of ghosts, memories feel like weapons," is her saying how she is afraid of recreating this past relationship. 
"Living for the thrill of hitting you where it hurts, give me back my girlhood it was mine first."  
Here, Swift expresses how she wishes to get back at this ex-lover for hurting her and how she feels he took away the last bit of her childhood.  
This is my favorite line from the song. Her voice cracks and sounds younger, almost as if it were her younger self singing. 
My favorite song on the album is 'You're on Your Own Kid.' I won't lie, I almost skipped this song until I heard the beat drop around 1:40. After hearing the bridge of this song I cried. Now every time I hear this song, I scream the lyrics. 
Just like 'Anti-Hero,' this song is very relatable to me. My interpretation of this song is that you try your best for people just for them to leave, but in the end its okay. 
"I gave my blood, sweat, and tears, for this" and "I hosted parties and starved my body" talks about putting everyone first before yourself. 
"Everything you lose is a step you take, so, make the friendship bracelets, take the moment and taste it, you've got no reason to be afraid." 
This line is what makes this song my favorite. Swift is telling us that we must lose people to become stronger and to make the most out of these experiences. 
In the end, "I'm falling in love" with 'Midnights.' 
I give 'Midnights' 8/10 sparkly diamonds! 
Listen to 'Midnights' here.