October Food Review: Syrup.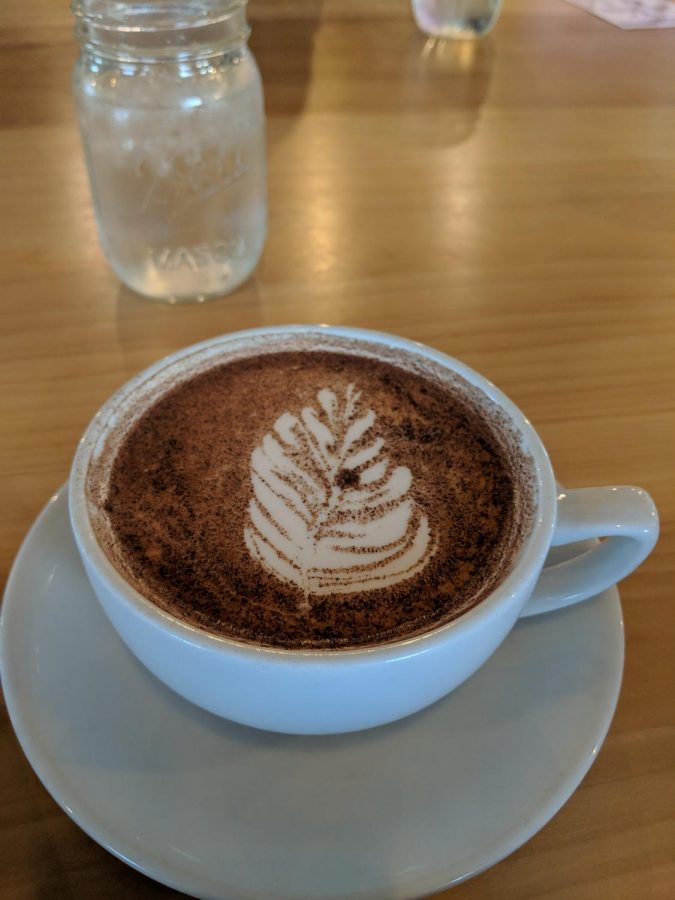 For our October food review, the Marionette staff took a trip down to 'Syrup.,' a cozy little restaurant on NW 23rd St., for our first breakfast review of the year.
This place offered a suite of breakfast options from the sweetest whimsical desserts to savory brunch delights, and our news staff had plenty to choose from.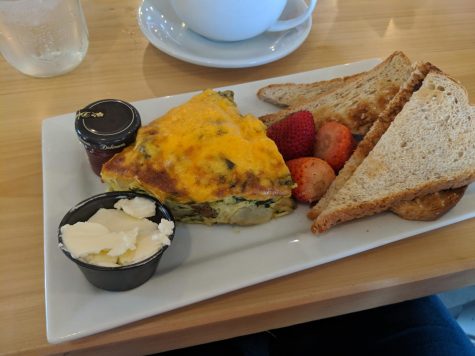 Cam Anderson and Jordyn Daniels both opted for the savory Stuffed Frittata ($8), which the restaurant described as a sort of "crust-less quiche" with filled with bacon and cheddar. Their dish came with a side of fresh fruit to complement the savory main course, plus a side of toast just for good measure.
Violet Parrott's Eggs Benedict ($9.50) came with poached eggs atop a buttered and toasted English muffin with and also came with a little dish of fresh fruit. (Right)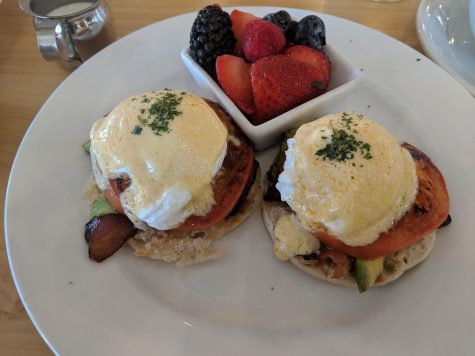 Between the muffin and the egg, there was a layer of avocado that "made the meal" Parrot said.
Her only complaint was how much hollandaise sauce covered the meal – too much in her for her liking.
Hani Mohammed, who also had the eggs benedict, particularly enjoyed how well the fresh fruit went with the meal. "It was perfect for a breakfast meal," Mohammed said.
Xavier Rhone's plate of Breakfast Sliders ($8) was a tasty trifecta of silver-dollar pancakes, potatoes, and bacon. (Left)
He described the bacon was well seasoned and said that the potatoes were "crisp and flavorful." He gave the whole meal an 11/10.
Alice Bennet, who also had the breakfast sliders, gave hers a 9/10 with a point off only because she felt that the potatoes were a little under-seasoned.
"It was an excellent meal all around," Bennet said.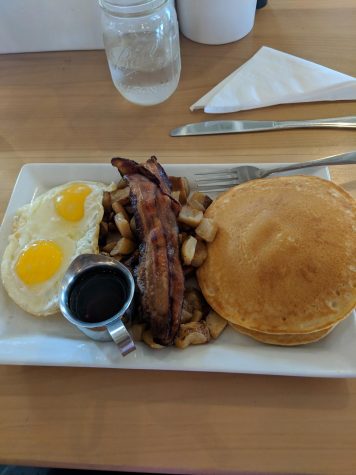 Gregory Richardson's delightfully named 'Nompton' ($9) was, in his words, a breakfast "made the Oklahoma way," with a pair of pancakes, a couple slices of crispy bacon, skillet potatoes, and two sunny-side-up eggs to top it all off. (Right)
"The hash browns and eggs were the best," Richardson said. "The hash browns were crispy and the sunny-side-up egg were perfect."
Mrs. Taylor ordered the classic biscuits and gravy ($7), which had two "very tall and fluffy" biscuits according to Taylor, that were drenched in a white sausage gravy along with a side of skillet potatoes.
I had one of their daily specials called the Haystack ($11). This dish came with two poached eggs on top of a rich, crispy-on-the-outside-creamy-on-the-inside hash brown pancake all drizzled with a delightful hollandaise sauce. I also ordered the smoked salmon on the side for an extra four dollars.
I absolutely loved my meal but mostly left the salmon alone, since I wasn't a huge fan of the smoked flavor. The texture combination is delicate with poached eggs but it was perfection in this dish and I would absolutely get it again.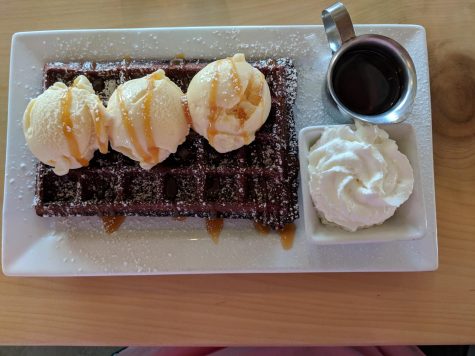 Nikita Lewchuk chose dessert for breakfast with their Red Velvet Waffle ($6.50) which had a sweetened red velvet waffle with three scoops of vanilla ice cream and caramel lace on top with an extra cup of whipped cream just for good measure. (Left)
"It's definitely only for people with a sweet tooth," Nikita said. "There was a lot going on there."
All in all, they thought it was a "really good" dish.
The motto of this little picturesque restaurant is "eat well, do good," reflecting the charitable aspect of the restaurant's business model.
The restaurant is owned by a missionary organization from Cape Town, South Africa, and the profits from the business are sent directly towards the charitable efforts of those missionaries.
"For the money that you're spending here, you're actually giving across the world," said Matt Kossler, Syrup's store manager, in a video by Uncovering Oklahoma.
If you would like to browse the menu it can be found here, and the location on 23rd is open from 7 A.M. to 1 P.M. weekdays, and until 2 P.M. on weekends.
About the Writer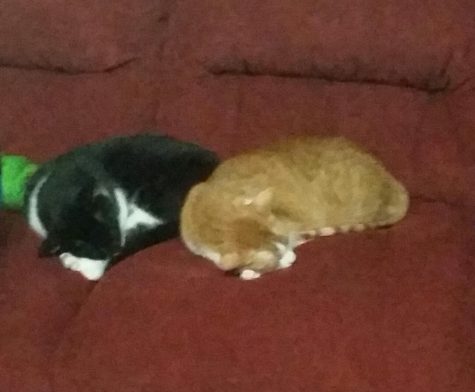 Dylan DelCol, Copy Editor
I'm Dylan DelCol, a very Canadian boi, and the second half of the Dynamic Delchuk Duo. This is our last year at HCP and my third on the news staff. Hopefully...