HCP prom transports students to the Land of Oz for a night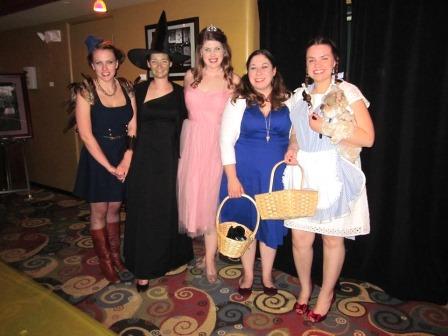 HCP held their 2014 prom this past Saturday at Will Rogers Theater. For juniors prom is an upperclassmen privilege and a sort of rite of passage into senior year. For seniors it is one of their last big moments as a high school student; the beginning of the end. Either way you look at prom, it is an important night in a high school student's life.
The juniors, who are responsible for planning prom for the senior class and their fellow juniors, chose a Wizard of Oz themed prom, centered around the slogan "There's no place like Harding." Along with a "yellow brick road" entrance, Oz backdrop, and lollipop centerpieces, the decorations also featured the classic 1939 movie playing on a silent loop behind the DJ.
Even some of the teachers got in on the Wizard of Oz themed fun by dressing up as characters from the movie. The cast included Cherith Ferguson as Dorothy, Laura Gilson as Glenda, Elizabeth Silver as a flying monkey, Kelli Taylor as "modern" Dorothy, Meghan Whitney as the Wicked Witch of the West, and Kristena Rudloff and Amanda Johnson as the Wicked Witch of the East.
Early on some students were suspicious of how a Wizard of Oz theme would play out and whether it would be a success, but afterwards the negative feedback was few and far between. With the exception of the always-present complaints about the DJ, few negative comments were made.
Silver, the junior class sponsor responsible for overseeing prom planning, commented on the DJ complaints by saying that most of the music played was based purely off student suggestions.
"You can't please everyone," Silver said.
However, Silver felt prom went very well. The food included fruit and cheese trays as well as a chocolate fountain that included things to dip like mini cheesecakes and marshmallows. The drinks were also special specifically the sour apple flavored virgin margaritas.
As is typical of most proms a prom Queen and King were elected. The nominees included Kalin Kyte and Zac Massenat, Ashley Medice and Jack Prutsman, and Kelsi Williamson and Kevin Burton. In the end Medice and Prutsman took the crowns despite the fact that neither of them really expected it.
"I knew a lot of people were going to vote for me but I thought Zac and Kalin would  win because they're a couple," Prutsman said.
The reactions to winning were really special. Medice said she was very surprised and that the experience was like something out of a typical high school movie.
"I was going to do the Mean Girls thing [break the crown and give a piece to each nominee] but it was metal so I couldn't," Medice said.
Prustman's reaction was really a special one. Prutsman was so happy and honored to be Prom King that he went out of his way to ask Silver if he could make a speech.
"He told us that he wanted to express his appreciation and I thought 'yeah, why not,'" Silver said.
It was the first time anyone had ever asked to make a speech. Prutsman got on stage and thanked his peers for electing him. He explained that for the first time in his life he felt accepted.
"I wanted to give people some idea of what that entailed for me other than the crown," Prutsman said.