Student exchange program comes 'full circle' for French teacher
The biannual French exchange program has come again, and it has a special meaning for Harding's French teacher, Emma Smreker.
'"One thing I love," Smreker said, "is [that] there's some kids that have never been outside of the country [and] being able to be that person that helps facilitate that."
The French student exchange program is particularly nostalgic for Smreker because she was once a student in it.
"I've been on both sides," Smreker said. "When I was at OU I studied abroad through this exchange program and it was like this whole exchange had come full circle with me because I started out as the student that studied abroad and now I'm the teacher that's arranging the exchange."
Smreker described her favorite part of her student exchange experience as "that moment when I realized that I actually know how to speak French because I'd been studying it since age 12. It wasn't until I finally moved there and studied for a Summer that I realized 'OK, I can actually have a conversation and get around in France and survive with my language skills.'"
That moment of epiphany is something she loves to see in students even now. "I see them over the two weeks while we're there go from really timid and shy and unsure to the end of the two weeks crying because they don't want to leave," Smreker said. "Also just seeing how much confidence they gain in their language skills and seeing them go from being really shy at first to just saying whatever they can possibly think of whether it's right or not."
The trip gets emotional for both students and advisors when it comes time to leave.
"We were all in tears the last time because no one wanted to get on the bus to go to the airport" Smreker said. "Everyone just wanted to stay with their [host] families."
But it isn't just Oklahomans travelling as part of this program. Twenty-two French students will travel to Oklahoma City in late October to stay with students from Harding and Casady Schools. Three teachers will be joining the students for the trip.
The French students traveling to Oklahoma have a bit of a more rigorous program, Smreker said. "The French students are coming here to study African-American history in Oklahoma, so we're going to take them to some areas in Oklahoma City that have a rich history." Additionally, she said that the group is going to Tulsa for an overnight trip to see areas affected by the Tulsa Race Riots.
"For me it's really cool because I grew up going to schools on the North Side [of Tulsa]," Smreker said. "When I was in elementary school I started learning about the Tulsa Race Riot and it's something that a lot of people don't know much about."
"I think it's a very interesting subject that they're focusing on this year especially with what's going on in the US as far as racism," Smreker said. "It will be an interesting topic for them to witness first hand."
The experiences of the respective exchanges (French and Oklahoman) differ on some points. "It's a little different for a French student to come to Oklahoma and an Oklahoman to go to Paris," Smreker said. "When we go to Paris we're using the metro and getting around by foot a lot and we're seeing cities where you can go from where our hotel is and walk everywhere. Whereas in the U.S., we have to get students a bus so that we can take them to all these different places because there's no public transport as far as metro or train that we can use efficiently."
Smreker said it's quite a culture shock initially for both groups, especially coming here from the town of Senlis, a small country town in an area that was originally founded by the Romans.
"The history of the town is fantastic," she said.
Smreker has been working over the past couple of months to drum up local press coverage for the French exchange program hosted at Harding because it is, in some ways, quite distinct.
"The reason we're able to do the exchange is because there's a written agreement between the Oklahoma Dept. of Education and an area of France called the Académie d'Amiens ," Smreker said. "It basically says that this area of France and the state of Oklahoma are going to partner together to encourage international exchange projects and partnerships. Basically, enhancing the culture and cultural respect between the two countries – getting kids from one country to know kids from another – that's what it's all about."
"I think that the people who travel and the students who come here deserve recognition," Smreker said. "It's not something that every teenager does or that every state has. Oklahoma is one of the few that has a partnership that is a written binding contract between us and an area of France."
"A lot of people just use a travel agency," Smreker said, "but there are very few states that will do a home stay where you partner with a school and those kids stay in families in France all within the same school, it's actually pretty rare."
About the Writer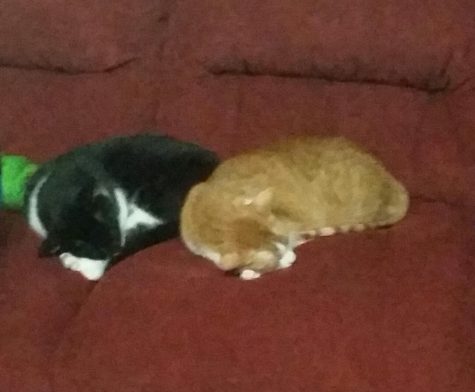 Dylan DelCol, Copy Editor
I'm Dylan DelCol, a very Canadian boi, and the second half of the Dynamic Delchuk Duo. This is our last year at HCP and my third on the news staff. Hopefully...