Winter break happenings
Winter break: a time of joy, relaxation and gifts for all, surrounded by the people you love. It was no different for students and teachers at HCP who spent quality time exploring the many facets the North American Continent contains.
Sophomore Anna Serven, along with senior Drew Serven, went on a family trip to Las Vegas for the holidays. Her highlight of the trip was their visit to the Grand Canyon but she said she also enjoyed the time with her family,
"We don't usually get to spend time much together," Serven said.
Senior Carlos Flores drove with his grandmother and sister to visit his extended family in Calvillo Aguascalientes, Mexico. Flores describes the drive as the highlight of the trip. He drove 29 hours straight, stopping only for restroom breaks. His second highlight was the fantastic variety of food in Mexico.
Choir director and humanities teacher, De'Erika Givings went to New York City to see the Broadway show, "A Bronx Tale." The rest of her time she visited the Museum of Modern Art and took in the sights around New York.
Senior Farah Walker braved the slopes of Breckenridge, CO in a family snowboarding trip. Walker has been snowboarding at this lodge since she was six years old and has returned every year since. Walker's highlight for the trip was the beauty of the mountains and the thrill of snowboarding,
"Just being on the mountain for four straight days. It's a really cool feeling going down as fast as possible," Walker said.
Algebra II teacher, Dr. Michael Lewchuk and his family took a week-long trip to Canada where they visited Windsor, Ontario. His highlight of the trip was six inches of snow on Christmas Eve and seeing Paul R. Tregurtha, one of the 13 "thousand footer" vessels that occupy the Great Lakes, which boasts a whopping size of 1,013 feet by 105 feet. Lewchuk also enjoyed the fog and snowy weather.
About the Writer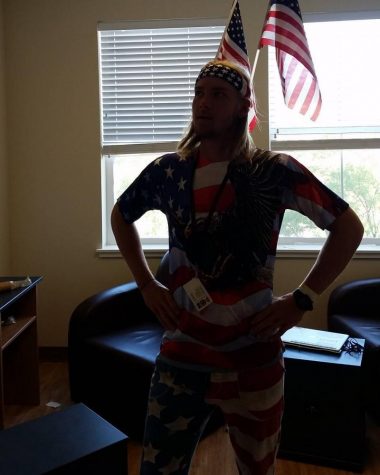 Mitchell Stroud, Reporter
Hello, my name is Mitchell Stroud and welcome to my bio! I'm a senior at Harding this year and I wanted to try something new so I applied for the news...