Teacher hot takes on virtual learning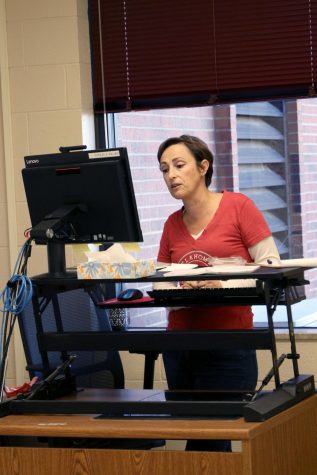 Covid-19 has created a world of uncertainty and panic where educators have needed to adapt to in order to attempt to create a semblance of normalness, both for themselves and their students.
Classrooms have remained empty, and whiteboards have been left unused. However, perhaps the most important aspect lost this school year has been the interpersonal elements of in-person teaching.
Math department head Dr. Michael Lewchuk felt that he needed to go back to the drawing board and redesign his model of teaching in order to make it work for distance learning.
"I feel like I am a rookie teacher," Lewchuk said. "The first month I was trying to stay attached to my old style of teaching and it took me a while to say 'I'm going to do 100% just Kahn academy and less theory' in class."
Letting go has not been easy for Lewchuk, who has been an educator for 17 years, six of which has been at Harding.
"In the end it went well, but overall I think it was a mess. I certainly did not go in depth as much as I normally do," Lewchuk said.
In addition to the difficulty of meeting the demand of preparing students for AP curriculum, distance learning has put a strain on teachers' mental health because of the lack of social interaction.
"It is mentally exhausting, literally at the end of the day I will be cashed…I hate my students not being here," said Arts department head Conde Currat.
Conceptual physics teacher Greg Meerschaert has had his fair share of disappointments as well.
"It honestly is a little weird; it's usually nice to talk to your students," Meerschaert said.
Almost all the educators at HCP have agreed that in this coming semester they would like to see more work being turned in from students.
"Turn in stuff on time; it would be incredible!" Lewchuk said.
In spite of both technical and logistical issues, many have chosen to keep an optimistic view towards the year: appreciating it for what it is rather than what it could be.
"I am really proud of both sides [teachers and students]. We are really having to learn a whole new mindset and I feel like most of the students are putting themselves out there," Currat said.
Cory Pocock, a health and physical educator, thinks similarly to Currat in this situation especially pertaining to his mental and physical health.
"I have got to bring the positive energy to class. Sometimes, I feel like I've got to get up and exercise. Thankfully, through experience I put into practice what I'm preaching," Pocock said.
Even though Meerschaert is not in person to talk with his students, he is still trying to form that important bond with the freshmen.
"I do think we have some immensely talented freshmen this year," Meerschaert said. "Overall, I think they are brilliant. There are some [students] we have to work with to get good habits, but I think a lot of them have stepped up to the plate even if it is a new way to learn for them."
To learn more about the HCP distance learning plan click here.