'No one even batted an eye': shedding light on domestic abuse within the school community
How to recognize an abusive relationship
Domestic abuse is an issue that is rampant in our community. Data from CDC's Youth Risk Behavior Survey and the National Intimate Partner and Sexual Violence Survey indicates that approximately 1 in 11 female and approximately 1 in 15 male high school students have reported that they have been abused by a romantic partner sometime last year.
In the average class of Harding, this data suggests that 2 students will be a victim of domestic abuse. Yet, despite these shocking numbers, domestic abuse is often a silent burden victims carry on their back through school hallways because abuse typically occurs away from public view. The isolation this causes for victims can provide fuel for their abuser to exert greater power over them.
One victim, a student referred to as Jane Doe for their safety, was in an abusive relationship for almost a year.
"He lied constantly and made me feel terrible about myself," Doe said. "He used every insecurity that I had against me. At one point he used self harm as a way to keep me in his life."
"I saw that he was getting very controlling and manipulative of me whenever I tried to hang out with my friends. He also didn't like me being independent financially whenever I got a job and paid for myself on dates. Also, whenever he started saying he was going to hit me and when he started being sexually coercive and used intimidation and manipulation to get me to bend to his will."
The abuse left lasting effects on Doe's mental health and outlook on relationships.
"My anxiety got so bad my parents sent me back to see a therapist to get it under control," she said. "It has made trying to see the good in other people a lot harder."
Classmates and teachers unknowingly seemed to egg the relationship on, telling Doe how "great" they were together. "There were teachers who even gave him bonus points for flirting with me," Doe said.
She felt that the school was ill-equipped to handle situations similar to hers, causing her to suffer in silence out of fear that if she did speak out, they'd be ostracized by others or be forced to deal with court proceedings. Victims can feel revictimized in court because of the confrontative nature of the judicial system.
"There were no steps for me to take with the school that would allow me not to become a spectacle," Doe said. "I honestly felt that if I tried to talk to them it would either go to the police because they don't know how to deal with this."
Counselors are required by FERPA to keep what is said by a student confidential — even to principals and other teachers — insofar as what the student says does not indicate that they are a danger to themselves or others. This is a big reason why speaking to a counselor can be a good first step for a victim wishing to seek help. School counselors can also refer a student to see an outside specialist if they don't feel comfortable talking to a school professional. Two staff members have counseling degrees: Ninth and tenth grade counselor Carlissa Baker and assistant principal Joe Hughes.
"We're lucky to have two licensed counselors on campus because typically a school of our size would only have one," said head principal Steven Stefanick. "Especially because of COVID, our counseling office is a resource that is far too often underutilized."
Teachers receive training on identifying and handling abusive relationships in August during professional development using curricula provided by the State Department of Education. The training is conducted using an online platform. Although using an online platform can allow more teachers to be trained at a single time (50,000), it trades off with the benefits of having the interpersonal elements of in-person training.
"The best [professional development classes] I've experienced have had a real-life example in them just like how a student may need a real-life example to understand a difficult math concept," Stefanick said.
It's important that everyone, including teachers, students, and parents are able to identify signs of abuse in order to hopefully help the victim safely leave the relationship.
"The first step in handling an abusive relationship is identification. Unfortunately, if we aren't aware of it we can't do anything about it," Stefanick said. "COVID has definitely been a barrier in our screening process. Sometimes we can be able to identify that something is going on in a student's life by changes in their demeanor. This is why sometimes we can be seen in odd places in the hallway — it's because sometimes there is something we're trying to investigate in order to help a student."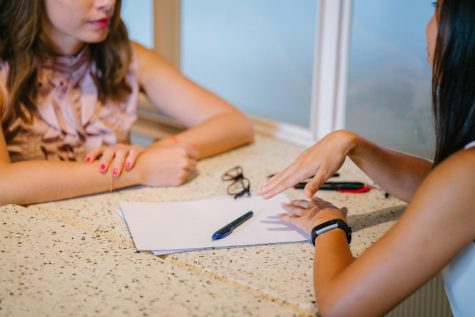 Carlissa Baker has been a school counselor since 2013 in elementary, middle and high school settings. She has worked with high school students since 2015. This is Baker's first year at Harding.
The biggest way Baker believes victims, peers and family members can identify if they or a loved one are in an abusive relationship is by looking for changes in behavior.
"I think that the biggest thing people can look for is shifts. For example, if someone is very outgoing and social has suddenly become withdrawn and sullen," Baker said. "But, it can go both ways. It can also be someone who is normally shy becoming reckless and showing attention-seeking behaviors or getting into drugs."
Providing anonymous avenues for discussing abuse can be incredibly useful for victims and friends/family of victims to access support. At the school Baker previously taught at, she provided a black box for students to anonymously drop tips in which she would check at the end of each school day.
Of course, with Harding being on an all-virtual model, that concept isn't possible to implement currently. However, hotlines — which are 100% anonymous — can still be accessed, many of which are open 24/7 and are toll-free.
The best advice, Baker recommended, for those who believe a loved one has been a victim of domestic abuse is to show them that you're there for them: "Hold their hand and hug them – sometimes all somebody wants is to have a place that they can go to let their feelings out," Baker said. "Let them know that you're there for them."
To access support for domestic abuse, click here. Everyone is deserving of healthy relationships.