Dressing up for Halloween isn't just for kids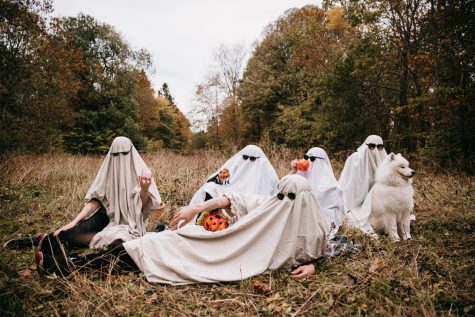 Halloween traditions like trick-or-treating and dressing up are typically associated with children, but at Harding Charter Prep students like to dress up and celebrate. 
Ajax Buxton, a freshman at HCP, is dressing up as the Grim Reaper. His costume is made from different items that he owns such as black clothes, a cloak and mask. In the past, he has dressed as the Joker, Sans from Undertale, Sherlock Holmes and many more.  
"We take Halloween very seriously at our house," Buxton said.  
His family decorates their house and they celebrate from September through October or what he called, "spooky months." His plans for Halloween are to hang out with a couple of friends and scare children.  
Blake Reed, a senior at HCP, is dressing up as Captain Jack Sparrow. He sewed the shirt and bought whatever items he doesn't own.  
"The wig is very uncomfortable, very itchy," Reed said.  
In the past he has dressed as a transformer, power ranger and superhero. He enjoys going to haunted houses on Halloween or around the holiday. "I have not missed a single year since I was 8," he said. 
Candela Principi and Hannah Tichenor are both sophomores at HCP and are dressing up as ghosts wearing glasses in a group with four other people.  
They are going to be wearing a sheet over their heads with glasses on the outside. Principi has dressed as a witch and little red riding hood in the past.  
Tichenor has also dressed as a witch, Bellatrix from Harry Potter, and Cara Dune from Mandalorian. They are both wanting to go trick or treating. 
Laurie Muckleroy, a sophomore at HCP, is not dressing up but is wearing a Halloween themed outfit. She sewed the skirt and it has glow in-the-dark skeletons on it. The rest of the outfit is put together with other things she owns. In the past, she has dressed as Mable from Gravity Falls and a cat. 
On Halloween, students can wear their costumes to school for $2. As a reminder, the costumes need to follow the out of uniform dress code.