Students, teachers praise new cafeteria food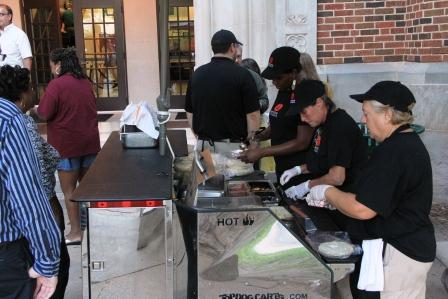 Changes can sometimes be difficult, but students at Harding Charter Prep have had no problem adjusting to the change in the school's lunch providers. The quality of food at lunchtime has dramatically improved under the care of Keystone Foodservices .Students also seem to be happier with the service and staff.
"[The former cafeteria staff] was mean, and very unfriendly, they are way nicer now, they actually talk to you," said senior Martena Hill.
Seniors such as Hill and Michael Emerson have a lot experience with the old food providers and could not be happier about the switch. "It's a lot better," Emerson said.
HCP had been looking for a replacement food service for some time. Only when Laura Massenet, a parent, emailed an article about Keystone featured in Oklahoma Living Magazine to the administration did the change seem likely.
Now everything has changed and HCP is embracing the change with open arms. "I love it, Keystone management is amazing to work with," said Principal Justin Hunt.
More and more teachers and students are enjoying lunch at school. In August of 2011, 1,445 students ate the school lunch and 12 adult meals were prepared. In August of 2012 with Keystone 3,372 students ate the school lunch and 114 adult meals were prepared. That is a 133 percent increase in the number of students eating the school lunch and an 89 percent increase in the number adult meals being prepared.  Keystone is currently serving lunch to 500 people and breakfast to 200 people.
Math teacher, Angie Ellis whose college used Keystone, said the food is excellent, giving the food a 12 on a scale of one to ten.
There is even a salad bar available every day for lunch. "It's nice to have a healthy option, and have it look healthy," Ellis said.
Other advantages come with the new service in addition to the food being fresh and tasty. Hunt revealed that HCP gets federal funds if the number of kids on free or reduced lunch is above 40 percent. In the past kids have not wanted to eat the school lunch so they don't fill out the form, but now with Keystone more kids are on free or reduced lunch. Saturday school, summer school, and after-school tutoring are all funded by this money.
Keystone is happy with the change as well. "The students and staff at Harding have been a joy to work with, everyone has been very welcoming and positive," said Keystone manager Josh Sanders.
Keystone Foodservice's number one priority has been the students themselves. Keystone is focused on ordering fresh products and making food from scratch that yields the best product for students.
"I believe the best things about Keystone Foodservice are our passionate ownership group and dedicated employees. We hope at the end of the day our passion and dedication is evident in our product."
Harding Charter Preparatory High School has a Facebook page where many updates are made about the cafeteria food: https://www.facebook.com/hcpeagles