New York from an Oklahoman's perspective part 1
Senior Maren Howard recalls her trip to the Big Apple with the HCP Choir in March
Along with the school choir, I recently visited New York City for the first time and flew on a plane for the first time in more than a decade.  
I arrived at the airport at 3:30 a.m. on March 23. The first flight was to St. Louis where there was a three-hour layover. I rode on Southwest Airlines, and it was my first time on a plane in 13 years. It was nerve-racking, but once we were in the air, it was a smooth and quiet flight.  
Shockingly, the St. Louis airport is a lot bigger than Oklahoma City's Will Rogers airport. There were a lot more shops and places to eat. After walking around and stretching our legs, a few other students and I played many competitive games of UNO to pass the time. Then, it was time to board the plane to take us to New York City.  
The first things I noticed were how busy it is, the narrow streets, and the smell. I knew New York was going to be busy with a lot of people, but it still exceeded my expectations. The streets are filled with cars, and people walking and biking all around. 
I did not expect the streets to be so narrow. The cars are so close together compared to how spaced out the cars are in Oklahoma.  
To explain better how close it was, if I put my hand outside of the bus window, I could put my hand flat onto the car next to me, and I have short arms.  
The last big thing I noticed was the smell. It smelled of smoke, food and marijuana.   
That night I had dinner at the Hard Rock Café, which I had never been to before. I had the Legendary Burger, and it was delicious. It came with fries that were also good. There was a stage with a screen playing music videos of various artists and other screens for those who could not see it.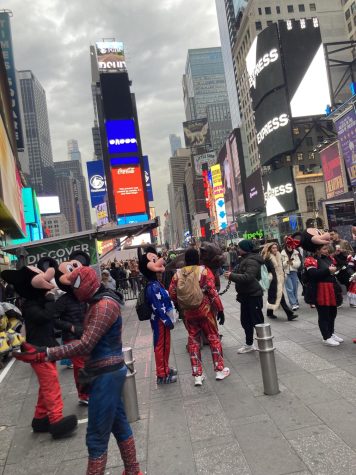 After dinner I walked around Times Square. It was so lit up, even in the dark, that I did not realize it was night except when I looked up. There were so many screens with advertisements playing.  
I didn't have a chance to just look and take it all in because of all the people around me walking around and I didn't want to get lost or left behind. 
I went to the Disney store, and it was so cool seeing all the decorations. I also saw the entrance to Bubba Gump Shrimp. I didn't have a chance to eat there, but as a "Forrest Gump" fan, it was cool to see.  
The next day there were even more fun activities and sights to see.  
Stay tuned for Part 2 later this week!