New York from an Oklahoman's perspective part 4
Senior Maren Howard recalls her trip to the Big Apple with the HCP Choir in March
The last day of the New York trip was slow, but I got on one last fascinating tour.  
Sunday, March 26 began with the final packing of my belongings, that I did not do the night before, and loading everything onto the bus.  
Before heading to the airport to go back to Oklahoma, I toured the Radio City Music Hall.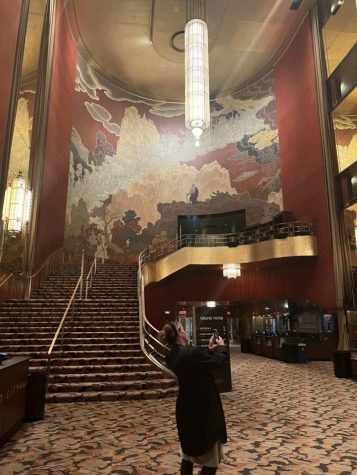 The inside looked a lot bigger than it appeared on the outside. The ceilings were high, and the décor was beautiful and regal looking.  
I got to go onstage. It was the biggest stage I had ever been on and it felt amazing to see all the seats in the audience even though they were empty.  
Along with the choir, I sang the beginning of one of our songs that we performed at the Heart of America Choral Festival. So, I can officially say that I sang onstage at the radio city music hall. 
The next part of the tour featured the Rockettes. I am not sure if it was backstage, but it was in other areas of the building. The halls were filled with outfit designs for the Rockettes and pictures of artists that have performed there. The outfit designs were pretty and cool to see.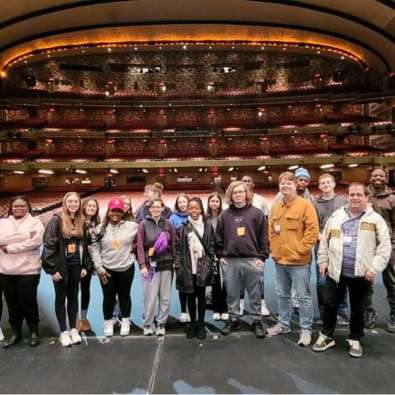 Later in the tour, we watched a video about the creation of the Rockettes while sitting in the original music hall's seats.  
After that, I met a real Rockette. She was stunning and talented. It takes a lot of work to be perfect enough to be a Rockette, including physical requirements such as a height requirement. To be a Rockette you must be between 5 feet and 5 inches and 5 feet and 10.5 inches tall without shoes. I am too short to be a Rockette even if I could kick high enough. 
After the tour, we went back on the bus and headed to the airport. The New York City airport is the biggest airport I have ever been in, and I got to explore it more before the flight. The flight out of New York to St Louis was scarier than the other flights because there was turbulence, and it was the only time I did not have a window seat.  
Once we were in St. Louis, we were at the airport for a five-hour layover. I was ready to go home. I spent my time walking around, or on the floor talking or on my phone. The flight back home to Oklahoma City had the least amount of people on board and it was quiet.  
I had an exciting time in New York, and I hope to return one day and explore more.