Waffle Champion works to make waffles the star
When people picture a champion they usually think of those who have overcome monumental challenges to win it all but in actuality someone doesn't really have to win to be a champion. A champion is a fighter. Whether they fight for a title or simply to defend their honor they are a champion of a cause. By this definition the people behind Waffle Champion are mostly definitely champions.
So what's Waffle Champion's cause? To successfully run a restaurant centered entirely around one food: waffles. These sorts of restaurants, while trendy, are tricky because if you're only going to do one thing, you better make sure you do that one thing very, very successfully.
I decided on Waffle Champion for our final review of the school year because I heard good things about it and because I am always intrigued by new ideas when it comes to food. And while I may not have enjoyed all of what I ordered, I can't say I regret choosing it.
The reason I don't regret my choice is because they changed their menu between the visit and the publication of this article. I love when restaurants are willing to change their menu because it says to me that they are adaptive and that they truly care about the food.
I had the Pit Ham waffle ($8.95) and waffle fries ($3.95). When we visited was a waffle with ham, Havarti, tomato jam, romaine lettuce and a sort of stone ground mustard. Now it is ham with Havarti, fried pickles, romaine lettuce and maple mustard. When I had it the only thing I didn't like about it was the tomato jam which tasted too sweet and clashed significantly with the flavors of the waffle. Now the tomato jam is no longer a topping on this waffle, for which I am grateful.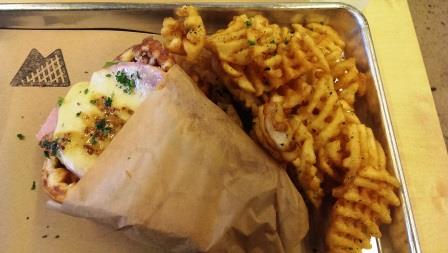 The waffle fries were terrific. They were seasoned nicely with parsley and garlic, which is something that most waffle fries just can't compete with. They were also perfectly cooked, meaning they were crunchy on the outside and soft on the inside.
Waffle Champion offers two condiments: truffle mayo and homemade ketchup. Kelli Taylor really enjoyed the homemade ketchup. She described it as "tart, tangy, a hint sweet, and not that weird overly-red color you get from a Heinz bottle." I liked both, but unless you are completely disgusted by truffles (like Taylor), I would highly, highly recommend the truffle mayo. The pairing of the fries and the mayo was heavenly and to be honest I wish I could eat it again right now.
Stephanie Emerson had the Bacon Egg N' Cheese waffle ($7.95), which is a waffle with thick cut bacon, a free range egg and Tillamook cheddar. The waffle was a big portion and had just the right amount of bacon in it. Emerson also liked that the food was served quickly and presented nicely.
Hannah Malzahn and Taylor had the Buttermilk Fried Chicken waffle ($11.95), which has local and free range fried chicken, crispy leeks and is drizzled with honey (now Tabasco honey).  They both thoroughly enjoyed their waffles. Both were most pleased by the cooking of the chicken, which they described as lightly floured, tender and moist. While Taylor said the chicken was the star, arguably overpowering the waffle, Malzahn felt that everything in the dish was well represented.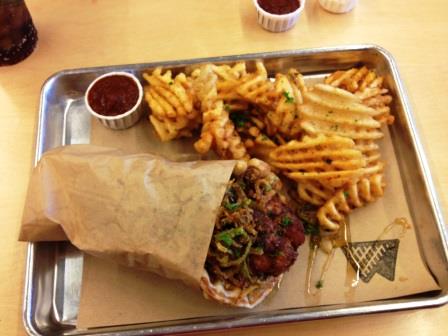 "It was the perfect balance!" Malzahn said.
Jake Burga had a banana and chocolate brulée waffle , which he said was absolutely delicious. Burga also made the point that one of the best things about Waffle Champion is that they leave your experience up to you. You can order a plain waffle for $3.95 or pick from 20 different toppings at $.95 at topping.
"While you're pretty much going to get the same waffle, what matters is what you put on it. The waffle is wrapped around whatever concoction you or they can come up with," Burga said.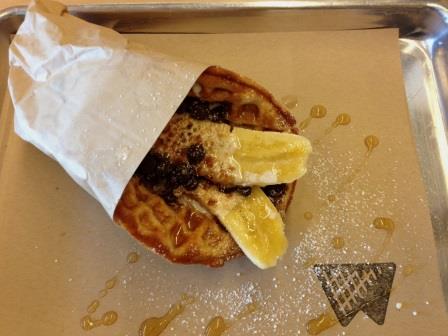 They do this in everything from the waffles and toppings to condiments. Even their soda options are left up to the customer. They offer a fountain of organic Maine Root handcrafter sodas made with cane sugar.
With that being said Monica Threatt made up her own waffle concoction. It consisted of a waffle with homemade whipped cream, fresh berries and strawberry-anise compote. Threatt liked the big portions and was seemingly very happy with her choice of toppings which she described as "sweeter than those pictures on Tumblr of babies sleeping on dogs."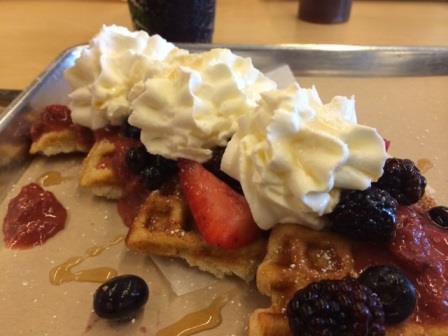 Johnathan Conley had a buffalo chicken waffle which was the special that day. He was slightly less pleased with his meal. He said there wasn't really anything special about it and that it lacked a certain "zing."
"I wouldn't recommend it to anyone. The waffle absorbed the hot sauce from the wings, turning large chunks of the waffle into soggy pockets of spice," Conley said.
Overall I think Waffle Champion does exactly what it is supposed to do. Waffle Champion does a good job of taking one basic food, offering options to expand upon it and essentially leaving the experience up to the customer. I would definitely suggest Waffle Champion to anyone who likes waffles but is looking for a creative twist.
Waffle Champion is located in the Midtown district at 1212 N. Walker. It is also located nearby 1492 New World Latin Cuisine, Stella Modern Italian Cuisine, Irma's Burger Shack, and McNellie's Public House.