Big Truck Tacos is still saving the world one taco at a time
When I joined the Marionette staff in 2012, I wrote the paper's first food review.
And that was the beginning of a tradition, one that I and the staff have carried on for the last three years. Almost every month we go out to eat and then I compile our opinions and give an overall review of the restaurant. It's become a routine. It's effortless and my favorite thing to write. With that being said last week I had another senior moment when I completed my last food review. And of course without even noticing I came full circle.
The staff and I visited Big Truck Tacos once again but this time we did breakfast instead of lunch. I had the "Tall Twin" (my absolute favorite) with bacon, and the "Sam I Am" which I had never tried before.
The "Tall Twin" (3.25) is a taco with egg, potato, cheese, and your choice of meet (bacon, flank steak, BTT Chorizo, Borracho chicken, or ham) named after 1/3 of Big Truck's management: Cally Johnson. It's simple, some might even say boring compared to some of the other things on the menu but boy, is it tasty. It is just the prefect amount of grease, fat and richness to start your day with.
Stephanie Emerson also had the "Tall Twin" but she had hers with chicken rather than bacon and she, much like me wanted to eat it all over again. "I loved every bite and didn't want it to end," Emerson said.
The filing does overflow the tortilla, which I also noticed, but we are by no means complaining. You also might try the "Little Twin" (named after Katryn Mathis) which ditches the potato and cheese ($2.50). Emerson also tried the chips and queso. She liked that the portions was big and enjoyed the creamy texture of the queso.
The one thing to be said about the chips and queso is that while the portions are big for one person, the portions are not adequate for a group. When my parents and I order chips and queso we get a small order ($3.25) because when we get a large ($5.75) we never finish the chips, but there is NEVER enough queso. So Big Truck, this is me officially appealing to you to fix your chips to queso ratio.
The "Sam I Am" taco ($3.00) on the other hand was not one I will be getting again. The "Sam I Am" is a taco with egg, cheese, ham, and guacamole. It sounds like the perfect combination and that's why I got it but I have to be honest it didn't seem up to big truck standards. The ham was just small cubes of ham I would have thought big truck might grill it or serve it with a special seasoning. The guacamole is Big Truck's standard guacamole that they serve with chips and it's good as always but let me just say this, hot guacamole or even luke-warm is not something I would suggest. Of course these are just small errors but none the less I am not eager to have it again.
Kelli Taylor had the "Mother Trucker" plate. This plate ($8.25) comes with flank steak, fried eggs, HQ potatoes, refried beans, and big truck spicy tomato sauce, with your choice of tortillas. "It was so good, I still think about it sometimes. I crave it," Taylor said.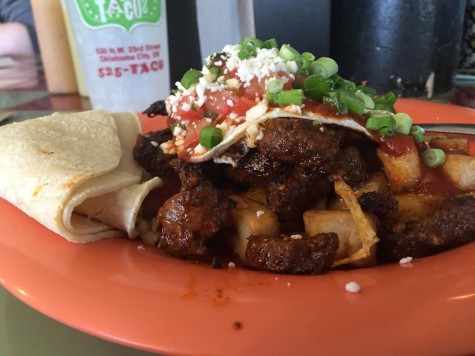 The portions are big, the steak is tender, the potatoes give substance, and the eggs are perfectly cooked. Hearing Taylor talk about it makes me want to skip first hour one day and indulge in this deliciousness instead.  Make sure when you try this plate that you pay special attention to the tomato sauce which got rave reviews. If you're more of a breakfast burrito person, that's okay they have that too. There are also more adventurous options like migas ($6.75) or huevos rancheros ($6.75).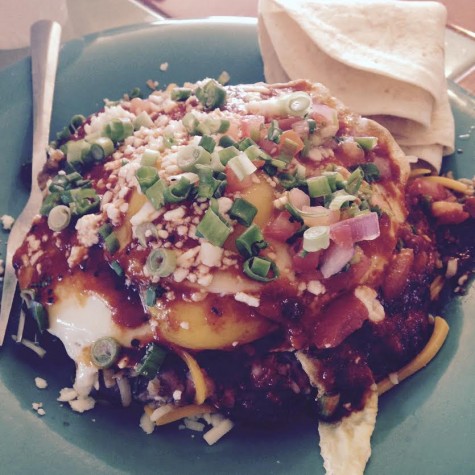 Joining this staff was not my first experience with journalism by any means but it was my first opportunity to really develop as a writer. Part of that development was finding my style and finding my comfort zones (and inevitably breaking out of them). Food reviews are my comfort zone and Big Truck Tacos is my comfort restaurant.
The truth is I was far more sentimental about my last review after the fact then I was at the time. At the time I didn't even realize it was the last one, and now I'm sitting here trying to procrastinate so that I don't have to finish it. But everything must come to an end and there was no better place to end it.
Big Truck Tacos is located at 530 NW 23rd St. It is open from 7:30am to 10:00pm Monday through Thursday, 7:30am to midnight Friday and Saturday, and 9:00am to 9:00pm on Sunday. You can place to go orders by calling 405-525-TACO.