Treats, eats for all Valentine's Day budgets
You wake up, and the brisk February air gently sweeps away your slumber as you walk to the corner flower shop. Every morning you walk by and see the idle shop-owners welcome the few regulars that stop by every day, but today is different. The flower shop is bustling with troves of customers searching for that perfect arrangement. It's February 14, Valentine's Day.
Whether it's waiting until the day after for the discounted chocolate, or waking up 45 minutes early to make your significant other breakfast, Valentine's Day can cater to any circumstance even though it's widely regarded as a day only for couples. This list will cover every situation, from super fancy dinners and dances to Valentine's dinners that will allow you love your wallet and your significant other at the same time.
If money cannot put a price on your love for your partner, here are some Valentine's Day events that will guarantee a unique experience:
Off of MacArthur and NW 8th street, the well-established Castle Falls is hosting a Valentine's Day dinner and dance on February 10 for $50 per person from 6 to 7:30 p.m. They are also hosting a dinner on Valentine's night for $195 a couple. You can place reservations by email at [email protected] or by phone at 405-942-6133.
Vast, and its scenic overlook from the top of the Devon tower, is offering Valentine's Day dinners at three separate seating times: 4:00-5:30 p.m. for $82 dollars a person, 5:45-8:45 for $95 a person, and 9:00-10:00 for $82 a person. Reservations can be placed at 405-702-7262.
Cattlemen's Steakhouse, located in the historic Stockyards City, is known for its great steaks. If you and your partner love steak and stockyard history, Cattlemen's is the place to go. Reservations can be made at 405-236-0416.
For those that want to make Valentine's Day a special night while respecting frugality, these places will offer great food at a reasonable price:
If you and your partner prefer lunch dates rather than dinner, Kitchen 324 is a local, organic cafe in downtown OKC that has a reasonably-priced lunch menu served from 10:30 a.m.- 4:00 p.m. every day.
Iron Star Urban Barbeque, located at NW 36th and Shartel, offers great barbeque with most meals being under $15. Iron Star has the staples of barbeque like ribs and pulled pork, but they also have something for everyone like salads, nachos and quail.
Charleston's is an American classic, with nice evening decor and great service that will always leave you and your partner satisfied. With modest prices and hearty portions as well as vegetarian options, Charleston's is a sure bet for when someone says "I don't know" or you want something for every type of person.
If you are in a love triangle between your partner and your wallet, here are some places that will leave you and your wallet satisfied while offering interesting decor.
The Blaze, Lebron Jame's pizza franchise will surprise you with its fast-paced yet personal vibe as you build your own pizza and for under $10 lovers and pizza lovers can co-exist without breaking the bank.
For a more regal experience, Cafe 7 combines budget and baroque. With a markup menu with all meals under $9 as well as an extensive wine list (for your parents, of course), Cafe 7 is sure to give you the fancy feeling without the expensive price tag.
If you and your partner still want more to do after dinner here are some Valentine's Day events happening around OKC.
Friday February 9 the Plaza District is hosting LOVE on the Plaza. The Yum Pig food truck will be there as well as live music and a kiss cam. If you are lucky enough you might find Nan the dog wearing a GoPro  spreading love all night.
If you and your partner are into fear, Friday, February 9 and Saturday, February 10 the Sanctuary is hosting a Tunnel of Love event from 8-11 p.m. Tickets can be purchased online at the link provided.
For a personal gift for your valentine the OK City chorus is selling Singing Valentines. For $50, a quartet will come to anywhere in the metro area to serenade the person of your choosing. They also have a $10 call and a $5 video valentine option.
From all of us at The Marionette, Happy Valentine's Day!
About the Writer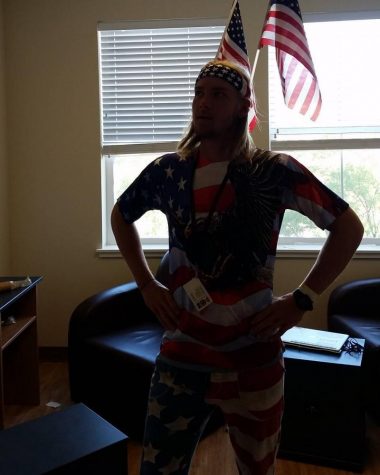 Mitchell Stroud, Reporter
Hello, my name is Mitchell Stroud and welcome to my bio! I'm a senior at Harding this year and I wanted to try something new so I applied for the news...