Impeached again
A timeline of the historic second impeachment of former President Donald Trump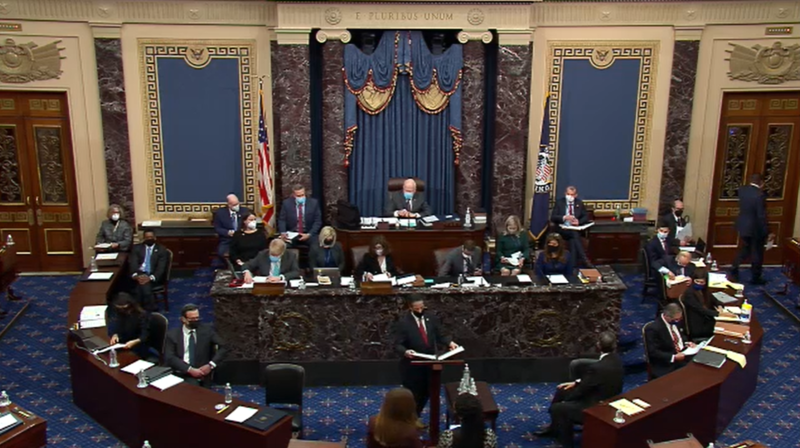 After a dangerous attack on the Capitol and the inauguration of President Joe Biden, the second impeachment trial of former President Donald Trump began. The second impeachment trial of Trump had been under way since Feb. 9. The House of Representatives began debates on Jan. 13. The House got the votes to impeach and charged him with "incitement of insurrection."
The charge was regarding the Jan. 6 attack on the capitol. In that event, representatives and staff members were fearing for their lives. A total of 5 people died due to the events of that day.
The first day opened with a debate on whether the process was constitutional or not. A majority of the senate voted yes.
The House impeachment managers presented their case stating that Trump incited the insurrection that took place at the Capitol on Jan. 6.
The lead House manager, Rep. Jamie Raskin from Maryland's 8th Congressional District. He displayed videos that showed a speech from former President Trump.
The videos laid out evidence of Trump firing up his base within the years of his first campaign through after the 2020 election and how it ultimately lead to the January 6th attack.
Rep. Raskin became emotional at one point, claiming that his daughter did not want to come to the Capitol anymore. His son, Tommy Raskin, had died by suicide on New Year's Eve.
Rep. Neguse of Colorado spoke some time after Raskin. He laid out the timeline of the baseless claims being spread under former President Trump. He played Trump's words and explained the dangers of his words, showing how they ultimately led to the Jan. 6 attack. He explained how Trump tried to stop the certification by intimidating former Vice President Mike Pence.
Neguse then went on to say, "None of it worked. So, what does he do with his back against the wall when all else has failed? He turns back to his supporters, who he'd already spent months telling them that the election was stolen, and he amplified it further. He turned it up a notch. He told them that they had to be ready, not just to stop the steal, but to 'fight like hell'."
Rep. Eric Swalwell from California's 15th Congressional District spoke some time after Rep. Joaquin Castro. Swalwell displayed unseen security footage of the Jan. 6 attack.
Some of the footage included rioters searching the Capitol. In one clip, staff members and senators were shown being led away from a hallway by the capitol police as the rioters were nearing. Swalwell said that after calculation, he determined that as they were fleeing, the rioters were only 58 steps away from them as the Capitol police, who "created a line and blocked the hallway with their bodies to prevent rioters at the end of the hall from reaching you (the senators) and your staff."
A video shown by another House impeachment manager, Rep. Stacey Plaskett from the Virgin Islands At-Large Congressional District, showed rioters searching for House Speaker Nancy Pelosi. There was also audio played where Pelosi's staff could be heard hiding from the rioters.
Two of the lawyers that represented Trump were David Schoen and Bruce Castor. Schoen is based in Georgia and has represented former Trump adviser Roger Stone, who was arrested on charges of witness tampering, obstructing an official proceeding, and five counts of making false statements, but was later pardoned. Castor is a former district attorney in Pennsylvania.
Michael Van der Veen, another attorney for Trump, argued that the words that Trump used were "ordinary political rhetoric" including his use of the word "fight."
When asked by Senator Bernie Sanders if Trump had lost the election, Van der Veen said "my judgment is irrelevant."
The lawyers attempted to make the case that the impeachment trial was political theater and that it was unnecessary and possibly unconstitutional, considering the fact that Trump is no longer in office.
On the day of the vote, Trump was acquitted with 57 senators voting to convict and finding him guilty and 43 finding him not guilty.
7 Republican senators voted guilty: Senator Richard Burr of North Carolina, Sen. Bill Cassidy of Louisiana, Sen. Susan Collins of Maine, Sen. Lisa Murkowski of Alaska, Sen. Ben Sasse of Nebraska, Sen. Pat Toomey of Pennsylvania and Senator Mitt Romney of Utah.