Basil Mediterranean Cafe attempts to pave new roads in fast food
Basil Mediterranean Café is trying something different. Very different. Basil is attempting to make fast food Mediterranean food, and I think they're off to a pretty good start.
Kelli Taylor had the chicken souvlaki. This tasty dish is a pita sandwich with pieces of marinated chicken breast that have been grilled on a skewer and brushed in a saffron sauce. Although the sandwich was messy, Taylor said the pita was soft and the chicken had a nice saffron flavor. The tzatziki sauce, which is a yogurt and cucumber sauce, had good tanginess to counter the rest of the sandwich. The chicken was tender and nicely grilled with a very strong char flavor.
"Certain bites had too much char but it was still good," Taylor said.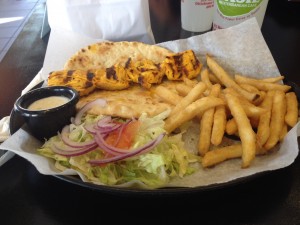 Hannah Malzahn had the falafel sandwich which is hot, crispy falafels made of ground assorted bean batter in a warm pita. Malzahn said she enjoyed the fact that it was light with lots of good flavor but that it wasn't quite as filling as actual meat.
Katie Leenders also had the falafel sandwich and although she enjoyed it she did have a few notes. "[It was] a little too bready, and it needs less lettuce but otherwise it was good," Leenders said.
Malzahn also tried the spanakopita which despite its deceiving name is actually quite simple. It is feta cheese and spinach wrapped in thin layers of phyllo pastry and fried golden brown. Malzahn agreed that although the texture of the phyllo is light and crispy the spinach and feta mixture verges on being too dense and rich.
Jonathan Conley had a classic gyro which is a pita sandwich stuffed with a mixture of savory beef and lamb. He described the sandwich as having too much tzatziki sauce. "You could barely taste the meat," Conley said.
Jake Burga went for a more exotic option that while not on the online menu was featured in store. Burga tried the chicken paradise gyro which included chicken, jalapenos, and pineapple. Unfortunately the gyro didn't seem to live up to its exotic first impression. Burga felt the sandwich was somewhat bland and lacked jalapenos.  "The big thing was the chicken and jalapenos," Burga said.
Stephanie Emerson had the chicken gyro which is marinated, flame-kissed chicken breast in a warm pita. She enjoyed it saying the meat was nice and tender with just a little bit of spice. Emerson liked the fact that the gyro was a big serving.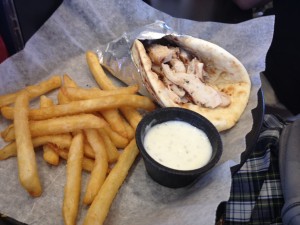 I had the vegetable sampler, which although listed as an appetizer, had just enough food to satisfy this reporter's appetite. The sampler includes dolmas (grape leaves stuffed with rice seasoned with lemon and garlic), falafels, spanakopita, hummus, and grilled asparagus, all served with tzatiki sauce.
The hummus had a nice texture and good bean flavor, the falafel was nice and crunchy with a good kick, and the dolmas were warm and tangy with a nice creamy inside. However the real star was the grilled asparagus which had a delicious grilled flavor and was nicely seasoned with a little parmesan. This dish is great for someone looking to sample the many things Basil has to offer.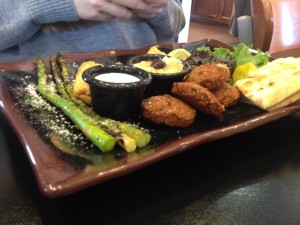 The entire staff tried the various kinds of baklava including cashew, pistachio and walnut. Baklava is a rich, sweet pastry made with layers of phyllo pastry, chopped nuts and honey. The baklava received mixed reviews. Leenders felt that it needed to be sweeter, Burga felt that it was somewhat bitter, while Malzahn and I felt that it was a nice balance of sweet and savory.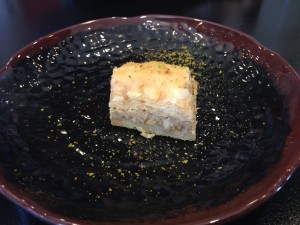 Overall Basil was a lot like that baklava in the sense that it received mixed reviews from the staff. While some were pleased with their dishes others had some important notes on what to improve. While I am suspicious of whether Basil can pull off the ambitious feat of making fast food a good medium for Mediterranean food, I do think that Basil is off to a good start.
Basil Mediterranean Café is located at 211 NW 23rd Oklahoma City, OK 73103 or 6620 E. Reno
Midwest City, OK. Basil is open Monday through Saturday 11:00am – 9:00pm and Sunday 11:00am – 3:00pm.