January Food Review: Hunny Bunny Biscuit Co.
This month's food review is all about the biscuits at Hunny Bunny Biscuit Co. on 23rd Street.
Hunny Bunny Biscuit Co. was the brainchild of executive chef Chris McKenna and the Urban Management Group Inc.
McKenna said in an interview with the Gazette that he had started dreaming up a biscuit menu almost half a year before the idea for Hunny Bunny took form.
According to McKenna in that same interview, items like the Charleston Sandwich and the Cannonball drew direct inspiration from his South Carolina honeymoon that kick started the restaurant idea.
Nikita Lewchuk's Hot Mess ($10) had a mushroom-gravy-soaked biscuit over tater tots with cheddar cheese and green onions on top.
"[It] was actually really good," Lewchuk said. "When it came to the table it looked like an intimidating amount of food, but I was pleasantly satisfied once I was done."
Kelli Taylor: Sunrise Bowl ($8)
Taylor ordered a delightful yogurt dish called the Sunrise Bowl ($8) that had a "tangy" yogurt complimented by cold fresh fruit and a crunchy granola that Taylor described as "friggin' delicious."
Alice Bennett had a fluffy Biscuit French Toast ($8) that had a cinnamon spiced biscuit covered in maple syrup and whipped cream, all ornamented with fresh berries and candied pecans.
"The biscuits were delightful and fluffy," Bennett said. "[The] hints of cinnamon really made it shine."
Bennett would have preferred to pour the syrup herself, since it had absorbed into the biscuit a bit by the time her dish got to the table.
Hani Mohamed's Fried Chicken Plate ($9) came with a biscuit and two spreads, along with tater tots and, of course, the fried chicken.
She said that the biscuit spreads, honey butter and fruity jam, were "delicious," but thought that the fried chicken was entirely too dry.
"I had to drink sweet tea for every bite [of chicken] I took," Mohamed said.
Cam Anderson's No. 7 ($6) was a biscuit sandwich stacked with jalapeno cream cheese, two layers of fried hot links, and caramelized onions.
She was underwhelmed by the lack of spiciness in the whole thing, given that it had hot links and a jalapeno spread.
Anderson was a fan of the cream cheese though, calling it her favorite part of the meal, and saying that it "really tied the thing together."
I also had the No. 7, and generally agree with Cam's commentary. The one thing I did differently was that I ate each half at a time with onions and cream cheese respectively.
Having seen all the options for breakfast biscuits, I had really high hopes for the texture and flavor combinations, but they didn't really work for me. All around it was a decent biscuit, but I'll be going for one of their fried egg options next, for sure.
Jordyn Daniels' Basic Chick ($7) was a classic fried chicken and honey biscuit.
She said that the biscuit was fluffy, the chicken was juicy, and the combination of flavors was good.
Violet Parrott's Cannonball ($9) was stacked high with fried chicken, a fried egg and sausage gravy – all topped with cheddar cheese for good measure.
She ordered her eggs over easy, and described the result as "perfect," alongside the fried the chicken that was "flavorful and crispy."
Gregory, who also had the Cannonball, described it as "[taking] the classic biscuits and gravy and flipp[ing] it on its head."
He said that overall it was "a really good meal."
Hunny Bunny's menu has many more items than we could have sampled in one meal, and if you want to peruse their field of options, their menu can be found here.
They will seat you any time from 7 A.M. to 3 P.M. daily, and you can find them at 429 NW 23rd Street.
About the Writer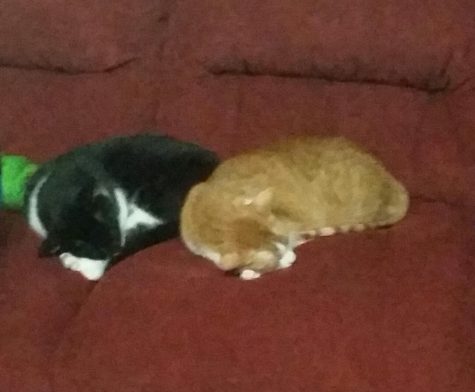 Dylan DelCol, Copy Editor
I'm Dylan DelCol, a very Canadian boi, and the second half of the Dynamic Delchuk Duo. This is our last year at HCP and my third on the news staff. Hopefully...