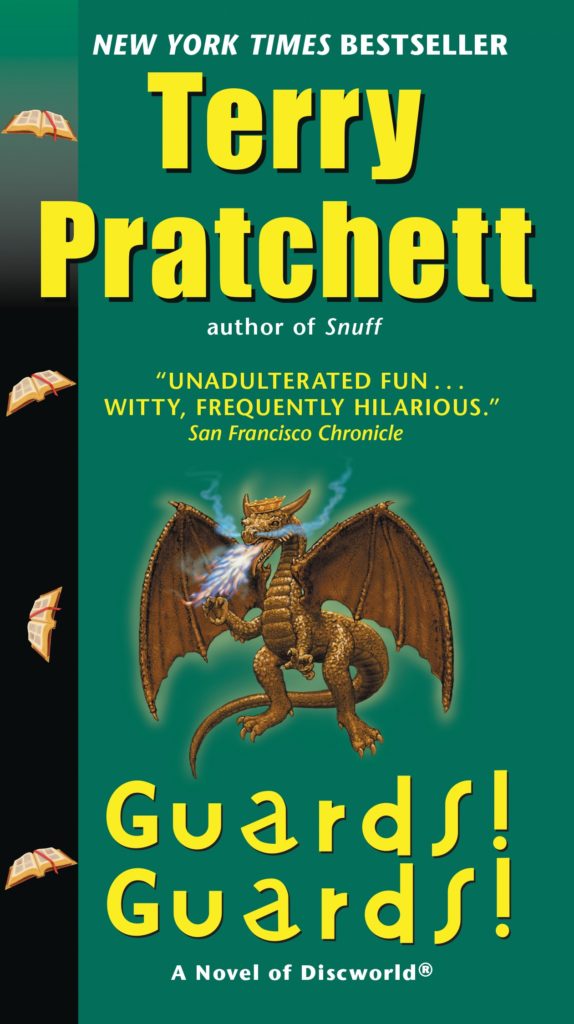 As is the case with all the Discworld novels, Terry Pratchett's "Guards! Guards!" is set in the fictional Discworld, a flat planet riding on the back of four elephants, who are in turn riding on the back of A'tuin, a giant space turtle. However strange this world may be, it is also a mirror of our own. Pratchett often uses it as a device for social commentary and satire. "Guards! Guards!" is an excellent entry point into Pratchett's dry, satirical series. 
Like all of Pratchett's novels, the plot is impossible to accurately describe. In the novel, a small and uninfluential secret society steals a text from a nearby magical university and uses it to summon a dragon of a species long thought extinct. The rest of the book follows the small and disregarded Night Watch as they try to stop the terrible beast from destroying the entire city, as well as a number of strange and comedic subplots.  
On the surface, the novel is witty and humorous; however, the book tackles important subjects such as depression, wealth and the dangers of ignorance. The protagonist, Sam Vimes, is the grizzled and cynical captain of the city's Night Watch; he often struggles with depression and alcohol dependency. The plot, while following the Watch's attempts to rid the city of the dragon, also follows his personal journey as he strives to overcome his obstacles. 
The novel also addresses the problems that stem from a society dependent on the influence of the wealthy. In the city of Ankh-Morpork, all crime is organized and legalized within a set of guilds. (The Thieves' Guild, The Assassin's Guild, etc.) The Guilds hold most of the power in the city, leading to numerous social problems. Not only this, but because all these crimes are organized, the guilds handle any unauthorized crime, thus eliminating any need for law enforcement and destroying any power that the Night Watch may have. 
Story continues below advertisement
There's so much to unpack in this masterpiece of a novel, and we've barely scratched the surface. From the science of L-space to the volatile biology of the common swamp dragon, Pratchett has created a strange and magical world that can enthrall anyone who cares to listen.