November Review: La Baguette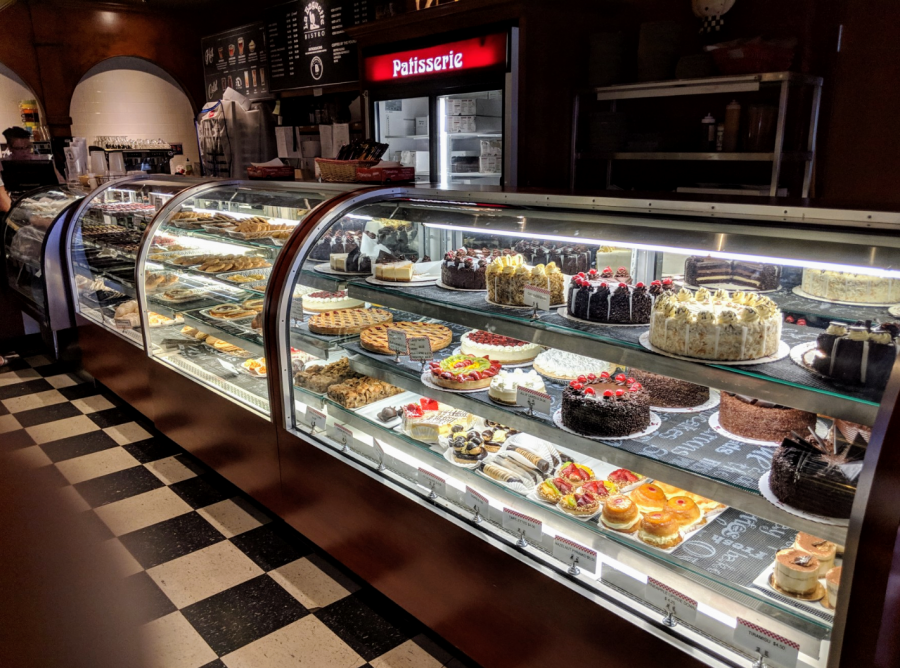 Anyone who's spent time in Paris will recognize the atmosphere invoked by a good French bakery, and I admit it was almost cathartic to see it emulated here in La Baguette's low-lit and cozy bakery and pastry shop.
This time around we have a snack-sized review to fit our snack-sized afternoon meal from their pastry counter.
We'll start off with Kelli Taylor's tiramisu ($3.89), which had sweet chocolate-flavored mascarpone between layers of coffee-soaked ladyfinger cookies, all topped with a sprinkling of cocoa powder.
"The texture was just right for me," Taylor said. "I give it two enthusiastic thumbs up."
Violet Parrot, who also tried the tiramisu, described it as "to die for."
Parrott's second sampling was of the cigar pastry ($3.89), which had the same fried dough roll of a cannoli but was filled with something more akin to a smooth cream cheese than the traditional ricotta filling.  Overall, she thought it was just "okay."
Xavier Rhone, who also tried the cigar, found it more to his liking than Parrott, but still found it a little doughy and without its usual crunch.
Jordyn Daniels had the pineapple upside-down cake and bread pudding ($8.96). She described her snacks as a moist sponge cake filled with a creamy custard, topped with candied pineapple, and a sweet bread pudding soaked in caramel sauce (rather than the classic rum) with shredded coconut on top.
"The candied pineapple on top had a nice amount of sugar," Daniels said.
Though she wasn't a fan of the coconut decorations, she said that she would get it again.
Daniels was ambivalent about her bread pudding but noted that caramel sauce substitute added "an interesting flavor."
Gregory Richardson said that it "reminded me of the pineapple upside down cakes my mom used to make."
Alice Bennett tried a slice the chocolate mousse cake ($8.50) and a handful of mini macarons ($3.50).
Her mousse cake alternated layers of moist chocolate cake and light creamy chocolate mousse to create a cake she described as "moist and delicious, not to mention beautifully decorated."
But for her, the trio of macarons were the real star of the show: various flavored cream fillings sandwiched between two colorful layers of fluffy baked egg whites in a tiny little hamburger shape.
"I plan to go back to La Baguette sometime soon just to get macarons just because of how good they were," Bennett said.
I had my usual French pastry favorite: the mille-feuille, or Napoleon ($3.89). This sweet little rectangular pastry is named "thousand layers" in French because of the many-layered puff pastry in between its layers of creamy custard. The whole pastry is capped off by a layer of hard and sweet sugar.
I had it late in the day, so the pastry had softened a bit from being in proximity to the custard, but I do not fault the bakers for the laws of diffusion. The filling was rich and had the distinctive vanilla coming through that I like to see; all-around a solid snack and good afternoon treat.In addition to a plentiful assortment of pastries, La Baguette serves as a bistro and novelty chef's store with the same reputation for quality as their bakery.
The Buthion brothers, Alain and Michel, have spent decades bringing French cuisine to OKC ever since they emigrated here from France in the 1980s.
The signature mini Eiffel Tower that adorns the N May Ave La Baguette hearkens back to the bakery and boucherie that they grew up with in southern France that shared the name. A picture of their father in front of the old restaurant still hangs in their bakery today.
The bakery, restaurant, and boucherie all open at 8 A.M. and close between 9 and 11 P.M. depending on the day (except Sundays, see their website for more info).
About the Writer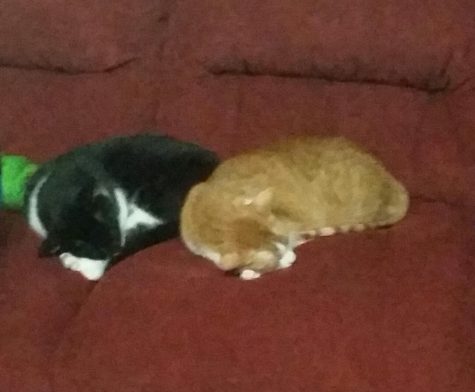 Dylan DelCol, Copy Editor
I'm Dylan DelCol, a very Canadian boi, and the second half of the Dynamic Delchuk Duo. This is our last year at HCP and my third on the news staff. Hopefully...