Mutt's is 'teaching old dogs new tricks'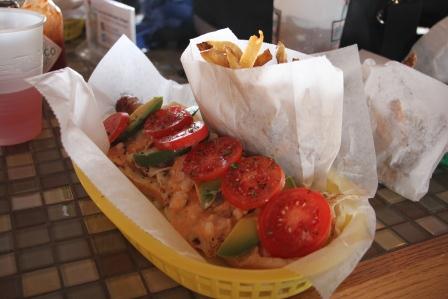 Mutt's is "teaching an old dog new tricks" and this reviewer would like to congratulate Mutt's on being an amazing teacher. Recently the Marionette staff headed back over to 23rd street where we popped by Mutt's Amazing Hot Dogs.
From regular beef hot dogs to falafel dogs to spam hot dogs, from chili to fried eggs to dried cherries, Mutt's serves up hot dogs that are beyond any hot dog I've ever had. Some of the more original dogs include the Maui Waui dog which is a spam hot dog in a poppy seed bun with grilled pineapple relish and spiced teriyaki aioli, and the Hair of the Dog which is breakfast links in a poppy side bun topped with French fries, cheddar-jack cheese, a fried or scrambled egg and bloody Mary ketchup.
I had the Hair of the Dog which I will be honest I have had before, but I don't think I could ever get tired of eating this hot dog. The way juicy, delicious breakfast links mix with the egg is nothing short of magical. I usually get the egg fried egg because Mutt's does an amazing job of cooking the egg so that when you bite into it the yolk runs down the side of the bun. It mixes with the French fries, sausages and cheese to create a perfect mouthful (be warned this hot dog is very messy).
The last aspect of this amazing hot dog is the bloody Mary ketchup which is as delicious as it sounds, it cuts right through the richness that some might find overwhelming. What's the best part? You can get this hot dog and a half order of fries for $7.50, which for the amount of food and deliciousness you receive, is a pretty good deal.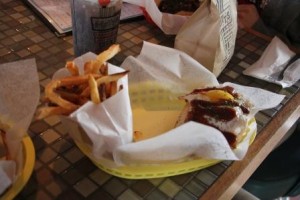 Rebekah Dow got the Garden Hound which is a great dog for vegetarians. Yes, Mutt's is a hot dog joint that caters to vegetarians. The Garden Hound is falafel dog with veggie chili. It is $4.50 with chopped onions or cheddar cheese available as add-ons. The chili was very flavorful, but the falafel could use a bit more seasoning according to Dow.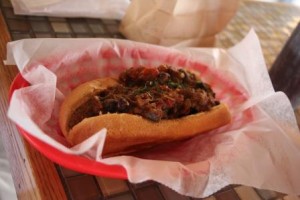 Lauren Edmond took advantage of Mutt's Foot Long Friday. Foot Long Friday allows for you to turn any hot dog into a foot long with a half order of fries at a discounted price. Edmond had a hot dog with mustard, chili, cheddar-jack cheese and onion called the Boardwalk for $4.50.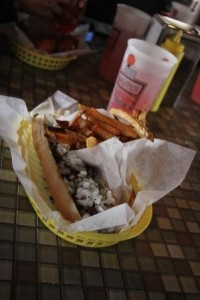 Monica Threatt had the Corn Pups which is a basket of mini-corn dogs for $6.00. Kelli Taylor had the Thunderbolt which is a stretch corn dog for $5.00.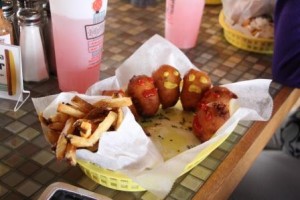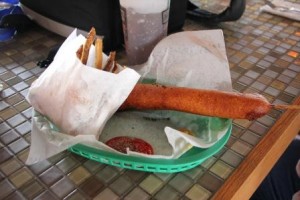 One of the best parts of Mutt's is that even though their specialty is hot dogs they also have chili, fried pickles, red skinned potato salad, and other delicious dishes to offer. If you are feeling extra adventurous you might even try the fried Frisbee which is fried bologna, pepper-jack, provolone, sliced tomato, iceberg lettuce, and dijon-mayo on Texas toast. So whether you want to keep it simple or spice things up, Mutt's is ready and waiting for you to place your order.
Mutt's is open Monday through Saturday from 11:00am-9:00pm and is located at 1400 NW 23rd Street, OKC.