You can't go wrong with Piccaso Cafe on Paseo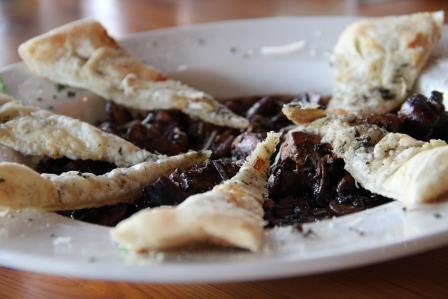 For the Marionette's first food review of the year, the staff traveled over to Picasso Café on Paseo, to indulge in some delicious appetizers and desserts. We started with a variety of appetizers including mushroom antipasto, risotto croquettes, white queso, and a spinach, quinoa tacos, hummus and tapenade trio.
Stephanie Emerson had the white queso. According to Emerson the queso was very tasty, filling, and a good deal since it is sized to share at $7.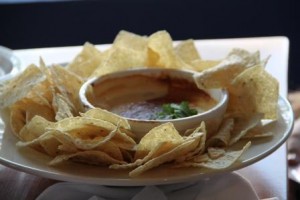 Hannah Malzhan had the quinoa tacos, which are tacos with quinoa, a seed usually prepared like a grain, as a substitute for meat. Although Malzahn didn't like the texture of the quinoa, Monica Threatt also tried them and enjoyed them. The quinoa tacos were $8. "It was my first time tasting something like that but it was super good, I ate the whole thing," Threatt said.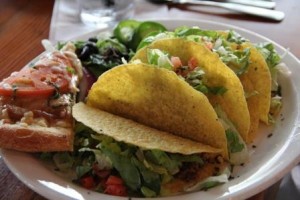 Kelli Taylor had the mushroom antipasto for $7 and although it wasn't what she expected she enjoyed it. A traditional antipasto includes cured meats, olives, pepperoncini, mushrooms, anchovies, artichoke hearts, various cheese, pickled meats and vegetables. Picasso Café took a more specific approach honing in on the mushrooms which were tossed in a tangy balsamic vinegar and herbed olive oil sauce, and served with herbed flatbread. Taylor said the salt from the flatbread cut the acidic flavor of the balsamic vinegar well. "You can't go wrong with bread dipped in balsamic and olive oil," Taylor said.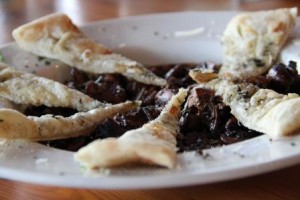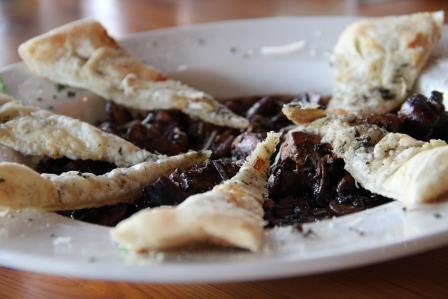 I had the risotto croquettes and spinach, hummus, tapenade trio. The $8 trio included deliciously creamy spinach and artichoke dip, humus, and an olive tapenade. While the spinach and artichoke dip is the standout of the dish the humus is a less rich accompaniment and the tapenade is perfect for finishing off nice and light. The trio comes together nicely with each element providing a unique flavor.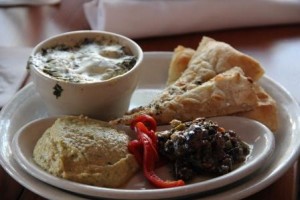 The real stars are the $6 risotto croquettes which are exactly what they sound like and luckily just as delicious as they sound. The warm, fried risotto balls were served with a flavorful marinara sauce and topped with basil and parmesan cheese.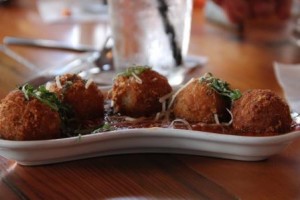 However mouthwatering appetizers are not the only thing that Picasso Café has to offer. Although not on the menu Picasso Café does offer a selection of desserts for $5. Taylor had a flourless chocolate torte, which she described as "everything [she] wanted in a dessert at that moment."
The torte was dense and rich with a strong chocolate flavor followed with a hint of coffee. It was served with a raspberry sauce which was perfect for cutting through the rich chocolate. "I didn't want to share," Taylor said.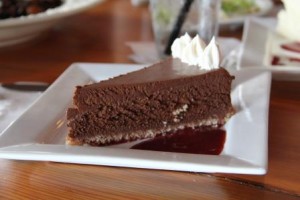 Malzahn and Katie Leenders had the beignets. They were light and fluffy, with not too much powdered sugar. It's safe to say the beignets were enjoyed as they caused an argument as to who got the last one.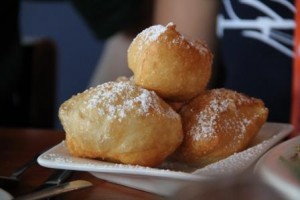 Threatt and Emerson both had the cheesecake and both enjoyed it. The cheesecake was creamy and was also served with the raspberry sauce which only added to the flavor. "You can't go wrong with cheesecake," Threatt said.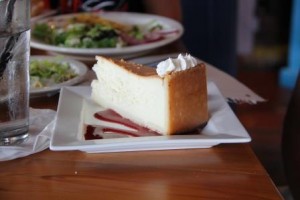 The general consensus seemed to be that you can't go wrong with Piccaso Café. Providing great food at good prices, and a comfortable environment, Piccaso Café has made itself a standout in this reporter's mind.
Piccaso Café is located at 3009 Paseo St  Oklahoma City, OK 73103, and is open seven days a week, opening at 11:00am and closing at either 9:00pm, 10:00pm or 2:00am depending on the day.