Red Cup Cafe hopefully will inspire bravery in customers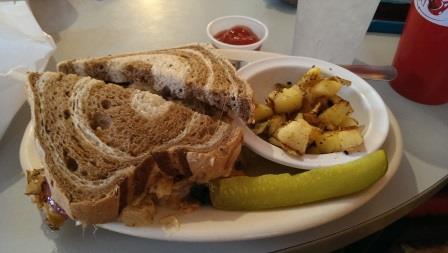 There is no denying that Red Cup Café is a landmark in Oklahoma City. No matter who you ask, chances are if they have lived in Oklahoma City they have been to Red Cup and have an opinion. I myself have been there many times in my life and have for the most part have enjoyed it every time.
On most of my visits I play it sort of safe and go for the Egghead which is scrambled eggs, beef steak tomato, and cheddar cheese, on choice of bread. I almost always get it on a sesame seed bagel and have yet to be disappointed. However on this last visit I decided to try something a little more adventurous.
This time I had the Epic which is house-made sauerkraut, red onions, and mushrooms, grilled together and topped with jack cheese all sandwiched between locally sourced marbled rye bread, with mayonnaise, spicy brown mustard, and spinach. I thoroughly enjoyed this sandwich.
The Epic does a great job of seamlessly combining multiple favor profiles. You get the nuttiness of the rye bread, the sour crunch of the sauerkraut (which was very fresh as well), and the pleasant earthiness of the spinach all combined together. Accompanied by the good mixture of veggies and the nice combo of mayo and mustard the sandwich is just about everything I could want in a vegetarian sandwich with sauerkraut.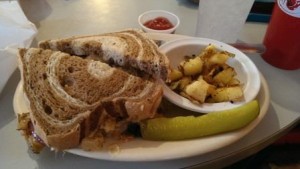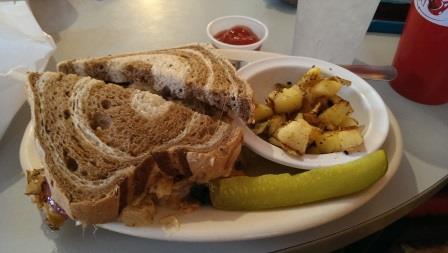 Both Hannah Malzahn and Kelli Taylor had the Stinky Cheese Sandwich coupled with the soup of the day which happened to be a tomato soup. They both enjoyed the two together but Taylor said that the soup by itself was not all that impressive.
The Stinky Cheese Sandwich is a grilled cheese with jack, cheddar, bleu cheeses, marbled rye bread, and red onions. The two agreed that the combination of cheeses was very successful. However while Malzahn thought the red onions provided a welcome crunch, Taylor felt that they adulterated the cheeses.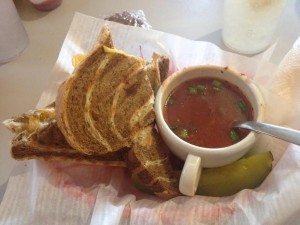 Stephanie Emerson had the spaghetti and meatless balls which is not on the online menu but was on the menu in house. Emerson for the most part enjoyed the dish saying the pasta was good and it was a large portion. The only thing she didn't care for was the meatless meatballs which had grainy texture and fell apart easily.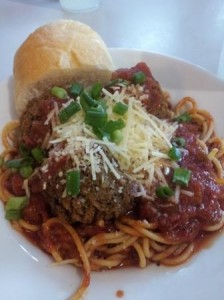 Kat Leenders also had the meatless balls but on a sub instead. The house-made "soysage" balls were served on a toasty baguette with spinach, marinara sauce, and parmesan cheese. She enjoyed the sandwich for the most part, saying it had a nice spice and actually tasted like meat. However Burga who also tried the sub said the imitation meat is noticeable and a little bit off-putting.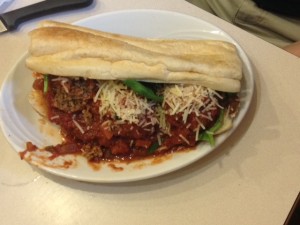 Jonathan Conley had the Muy Tres which is tomato, cheddar jack cheese, onion, bell peppers, cilantro, and mustard on a toasted Jalapeno bun. Conley said the sandwich was made with quality ingredients and had an agreeable texture but that the mustard overtook some of the other flavors. He recommended this sandwich for people who like a little spice but suggested easy mustard.
Monica Threatt and Burga had the Macho Nachos which are nachos layered with pickled jalapenos, red beans, and cheddar cheese, and finished with diced tomato, green onions, black olives, Red Cup's salsa, and sour cream. Threatt said although the cheese wasn't melted all the way they were still good. Burga suggests this dish for a group of friends willing to share or newcomers, as it is a big portion and a favorite of regulars at Red Cup.
Another regular favorite is the Frito Pie which Burga tried. The Red Cup Frito pie is Fritos smothered in vegan chili, and layered with cheddar cheese, diced tomato, black olives, green onions, and sour cream. Although Burga was slightly disappointed with the portion size he did feel like it was an effective way to have chili without meat.
Some of these combinations of ingredients may sound unusual such as black olives and chili, but the good news is Red Cup is willing to be flexible. So Taylor, who referred to black olives as "salty, fruity, discs of doom," has no trouble ordering a Frito Pie or Macho Nacho without the olives.
In addition to a menu full of interesting sandwiches and entrees Red Cup also offers a variety of baked goods for sale. Some of the featured items when we went included peanut butter chocolate cake, lemon bars, chocolate pecan cookies, blueberry muffins, skillet-cookies (no-bakes) and tiger brownies. The tiger brownies and skillet cookies are two that we can definitely recommend. The tiger brownie was described by Leenders as a "square of awesomeness" while Emerson said the skillet was "the best no-bake cookie I've ever had".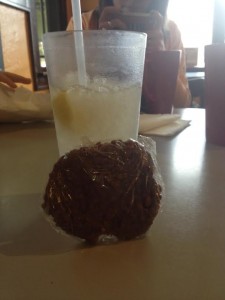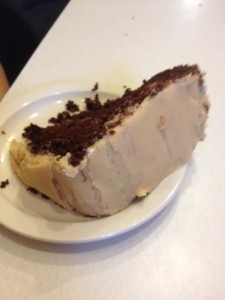 One thing you definitely need to try is the fresh made lemonade. This is the perfect balance between sweet and sour that you look for in a quality glass of lemonade. To say it simple it had members of our staff addicted and going back for more.
The bottom line is like any restaurant Red Cup has its faults and being a vegetarian, and in some dishes vegan, restaurant, it is subject to challenges that other cafés may not face. For instance, not using meat in dishes like spaghetti and meatballs and a meatball sub presents the challenge of using imitation meat, which often comes with occasionally justified stigmas.
It can also be a challenge with restaurants and cafés like these to avoid being overly pretentious. This is something that Jake Burga is aware of and has some thoughts on.
"The main thing to remember is that this is basically a 'hipster coffee shop', but the more specific sect of hipsters where everyone is a vegetarian, drinks overpriced coffee, and wears mainly earth-toned clothing and doesn't use any hair products as if it were the 1970s. This isn't necessarily a bad thing," Burga said.
And he makes a good point. While there is a kind of pre-conceived notion about cafés that serve expensive coffee and make vegetarian entrées, I encourage first time customers to keep an open mind and go into the unknown with the courage to try new things and alternatives to what we may often expect.